Boretrak® borehole deviation measurement system
Boretrak® is a cost-effective, rugged borehole deviation surveying system that's compact, lightweight and portable.
Borehole deviation happens. But without a way of measuring it, and taking the actual results of drilling activity into account, mine and quarry owners can spend more than they need to on breakage, transport, fuel and explosives, and they can risk worker safety and the safety of others working or living near blast sites. Those responsible for engineering or geotechnical projects can encounter costly delays if holes are not drilled to plan, and if action is not taken quickly.
Boretrak offers you an easy way to audit drilling activity accurately, in a wide range of applications, including quarry and cast blasting, exploration and foundation drilling, dam pinning, construction, piling and engineering works.
Our borehole measurement systems
| Cabled Boretrak |   | Rodded Boretrak |
| --- | --- | --- |
| |   | |
| Cabled Boretrak is designed to let you work quickly, and move across large sites, without the need to transport bulky surveying equipment. It is compact, lightweight, rugged and highly portable and is the system of choice on many quarry sites. |   | Rodded Boretrak gives unique capabilities to measure borehole deviation in situations where other systems won't work: in underground mines, areas of ferrous materials and uphole as well as downhole. |
Why borehole deviation happens and why it matters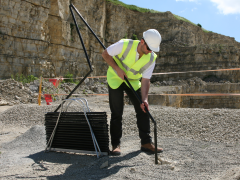 Borehole deviation isn't a rare occurence. Whether it's the experience of the driller, the quality of the equipment, the angle drilled or the local geology, boreholes frequently deviate from their intended path.
In the past, there was no easy way to measure deviation. Mechanical methods lacked accuracy, and produced little data which could be mapped against the drilling plan to enable a comparison.
As a result, some mine and quarry managers - even today - will proceed to blast on the basis of the drilling plan, rather than the drilling results. And those responsible for engineering and geotechnical works would proceed on the assumption that holes were straight, encountering costly delays later in the project.
Boretrak's designed to help you complete a range of drilling-related projects more quickly and efficiently, by giving you the data you need to make decisions, quickly, on-site, and without the need to employ surveyors or other costly personnel.
The benefits of Boretrak
You can read more about the specific benefits of using Boretrak in underground mining, engineering and geo-technical works and quarry drilling and blasting on our applications page.
Work safely
Deployed from ground level (or from underground sites), Boretrak keeps workers safe, whilst giving you 3D data on drilling activity.
Boretrak works with Quarryman to help ensure compliance with quarrying legislation, protecting local residents, employees and property.
Measuring borehole deviation avoids the risks associated with incorrect borehole data: fly-rock caused by poorly designed blasts, or intersection with underground utilities in engineering works.
Work efficiently
There is no need for an expert surveyor on site because the system is simple to use, with very little training needed.
Boretrak frees up personnel. A 20 m hole can be surveyed in a matter of minutes, and entire drilling sites can be measured and modelled in hours.
Get accurate data, on site, and make better decisions
A handheld CDU interfaces with dedicated PC software so you can audit drilled holes and produce reports in minutes. Results can the be issued to drillers on site if needed. Your on-site drilling operation becomes data-led, responsive and better integrated.
Map entire sites. Boretrak data can easily be geo-reference and related to your local co-ordinate system. This means you can compare today's results with historical data and view data from a range of systems - notably Quarryman - in one place. There's no guesswork and no data gaps.
Work reliably in extreme environments
A high degree of dust- and water-proofing is engineered into both the Rodded and Cabled Boretraks. Resistance to wet weather, water-logged ground, submersion, temperature extremes, sand and dust mean that Boretrak performs in tough conditions, reliably and accurately.
Portable, lightweight, and easy to transport across sites and between locations, the easy-to-deploy Boretrak is designed to be used by a single operator. Cabled Boretrak comes in a single Peli-case, with a total weight of less than 5kg. Rodded Boretrak probe and rods can also be hand-carried by a single operator.
A system you'll use regularly, to support a range of work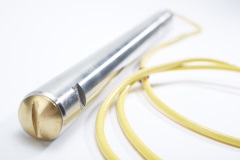 Boretrak is used globally in mines and quarries. It's a tried and trusted system used in:
Cast blasting
Exploration drilling
Foundation drilling
Quarry blasting
Piling
Engineering works
Dam pining