Quarryman® rock profiling and laser scanning system for quarry surveying and stockpile monitoring
Renishaw's Quarryman® Pro not only improves safety, but gives you the data you need to make decisions that increase productivity.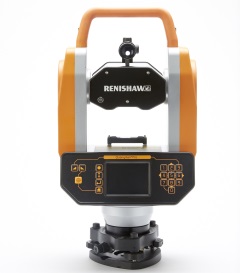 Renishaw's new Quarryman Pro builds on 25 years' experience of delivering laser scanning solutions to the quarrying industry, worldwide. It's our most robust system yet, designed to offer quarry managers the ability to:
Improve safety:plan safer blasts, based on accurate data, to protect workers and the local environment and keep you legally compliant
Increase profitability: blast planning using Quarryman helps cut transport hire and fuel costs, explosive costs and secondary breakage
Calculate stockpile volume quickly: to produce fast and accurate material stock valuation assisting production and operational planning
Quarryman is the scanning and measurement system choice of mines across the world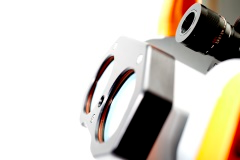 Safe, long-range or short-range reflectorless surveying for blast planning, stockpile measurement and whole site mapping
The opportunity to save on surveyor costs, with easy one-man operation, intuitive software and minimal training
Integration with blast design software packages and with LiDAR data collected from mobile mapping systems
A range of applications for quarry managers, providing excellent return on investment
A large global network of service centres, backing up our robustly constructed systems
How it works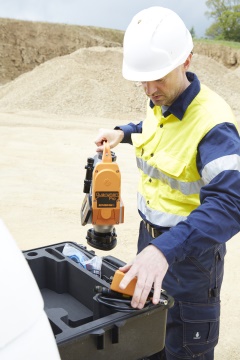 Renishaw's Quarryman® Pro is a 3D laser scanning system, which is easily operated by one person, with very little training needed to use the system or associated, intuitive software.
Light and portable, coming in a single, Peli case, the Quarryman system can quickly be moved around site and between sites by operators, and attaches securely and quickly to its tripod for rapid deployment, and quick use.
Operators can choose between a manual point and shoot mode, and an automatic laser scanning mode (250 points per second). Entire rock faces can be scanned in minutes.
Quarryman Pro measures and records millions of data points directly to a USB drive and does not require external PDAs or computers in the field.
The collected data can then be processed to create detailed 3D models, which can then be edited, analysed exported to specialist packages or other CAD software.
The Quarryman Pro is intuitive to use, portable and rugged, and carefully designed and tested to ensure it is robust enough to operate in the toughest conditions. It is a versatile system, which offers several applications, representing a value-for-money investment, which will give quarry operators the ability to quickly and simply collect data to support all areas of operation.
Quarryman Viewer Software
Our new software, Quarryman Viewer, offers users big advantages over previous Quarryman software:
Quicker to operate
New, intuitive feel makes work flow quicker for operators
New visuals allow for clearer viewing and quicker interpretation of data
Automation saves time: Quarryman viewer offers automated point coding, automated traverse processing, and automated surfacing of single scans
User preferences means Quarryman Viewer stores your most commonly completed
functions, making it quicker to repeat them for future projects
Project tree gives easy access to, and control of all data: scans, surfaces, observations and stations
Flexible options suit the way you work
Import options reduce operator programming time. Enter in one system and view in Quarryman.
Set up filters to give you the data you want
Export points, surfaces and strings in multiple formats to all major CAD and point cloud packages
Increased functionality lets you complete more operations in the software, and save time

Compute traverses, resections and range and bearing observations
Why new Quarryman supports you better than ever before
Quarryman has been a must-have on-site system for quarries for 20 years. The original Quarryman - and our later models - transformed safety on site and enabled our customers to simply and swiftly modify processes on site, to decrease post-blast workflow and costs.
The new Renishaw Quarryman Pro offers significant benefits, which customers of previous models will quickly recognise. Some of these benefits are:
The new sun-readable screen is larger than on previous models, for better visibility, and is now in full colour.
Data is saved to a USB, rather than a flashcard, for ease of data transfer, and to enable you to hold many more files.
A GPS mount is built into the handle, so you can quickly position Quarryman and easily  map point cloud data to other quarry maps, using co-ordinates.
Fewer clicks for each operation greatly enhance the speed, with which you can work.
Auto date and time stamping help you find files, without needing to enter details.
The battery issues a warning when low, but shuts down automatically if not recharged, retaining your data for you to retrieve later.
The new Li-ion battery is not only lighter, but provides a greater scan time.
The operating temperature has been increased, as well as the processing power of the system.
Finally, the new Quarryman is the first to have been developed, engineered and manufactured by Renishaw, and to offer customers the peace of mind of having one of the world's leading engineering technology companies behind the support and servicing of every unit sold.