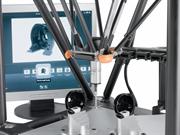 Both of the two Equator software levels include the intuitive MODUS™ Organiser operator front-end software, requiring little or no training. On the programmable system the comprehensive MODUS™ Equator programming software allows engineers to rapidly create gauging routines for any part - simple or complex, prismatic or free-form.
MODUS Equator features the ability to easily program scanning measurements and touch points, using the industry-standard Renishaw SP25 compact scanning probe. By scanning, thousands of data points can be taken to define a feature, allowing true form analysis of any feature.
By taking the dongle provided with the programmable system and plugging it into a shop floor system, full programming functionality is activated on that shop floor system, ideal for engineers to adjust programs but also retain control.
MODUS™ Organiser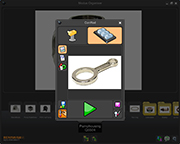 MODUS Organiser is an intuitive software interface for shop floor operators, featuring image-driven program selection, program execution and data reporting. A customised screen is created for each part, allowing the operator to start gauging with one operation.
Clear icons show whether the system is in master or measure mode in a logical sequence, and highlight the start button alongside other functions. When the program is running estimated time remaining is displayed along with a distinctive on-screen stop button. After gauging has finished a Pass or Fail window can be displayed, along with numbers of features within tolerance.
The DMIS measurement program runs minimised in the background in MODUS Gauge, which operators cannot access. The DMIS script file is however easily accessible for review.
MODUS™ Equator
MODUS Equator is a powerful metrology software package developed by Renishaw, enabling programmers to develop and run part programs on Equator.
MODUS Equator receives commands from MODUS Organiser to run DMIS scripts, which it then translates into standard I++ commands and sends to UCCserver Equator. MODUS Equator provides a comprehensive suite of 3-dimensional metrology functions, delivered via an intuitive user interface that features full graphical display of measurement routines. Wizards provide a quick and easy way to specify common measurement tasks, ensuring good practice is applied, without the need for specialist programming skills.