Fanbeam® 5
Fanbeam pioneered the use of laser technology to support swift and accurate dynamic positioning.
Fanbeam 5 builds on 20 years of experience to offer our most reliable, robust sensor to date.
Fanbeam 5 has many advantages as a laser position reference sensor
Highly complementary to differential global positioining systems (DGPS), which can degrade when close to larger structures.
Quick and easy to install and mobilise.
Provides independent redundancy against other position reference systems.
Cost effective, using passive, inexpensive targets, which can be permanently installed virtually anywhere.
Used by major DP system integrators for over 20 years, and are recognised by classification bodies and international standards.
Easy to operate, with thousands of dynamic positioning operators (DPOs) familiar with the system.
Fanbeam 5 is the laser system for dynamic positioning that:
makes target acquisition and tracking more reliable
gives DPOs clear and simple access to the data they need
uses advanced algorithms to predict position, calculate confidence and suggestion solutions to difficulties encountered during operations
offers service models that keep fleets working, wherever vessels are in the world
How and where Fanbeam is used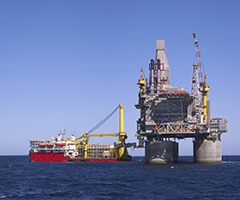 The accuracy, reliability and value offered by Fanbeam means it has been used on a wide range of projects, from bridge construction and windfarm installation through to platform supply.
The Fanbeam system has been used as a sole, primary or secondary reference position system by:
construction and multi-purpose support vessels
anchor-handling tug supply vessels
dredging and rock-dumping vessels
heavy-lift construction semi-subs and dive support vessels
windfarm construction vessels
emergency towing vessels
well-stimulation vessels
platform supply vessels and crew supply vessels
accommodation floatels
shuttle tankers
Designed to support DPOs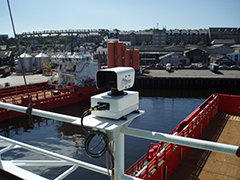 It's the combined design of our targets, laser sensor, software and interface that make Fanbeam 5 the preferred laser-based reference position system.
Our range of data outputs and the experience of fleets of combining Fanbeam 5 with a range of other sensors and DP systems, make it ideal either for holding a vessel in station, or for moving a vessel with high levels of accuracy.
Fanbeam 5 has been designed and developed according to two key principles:
Control: DPOs should be supported by intelligent, clear, quick-to-operate, pre-configurable software, which offers the peace of mind of automation, alerts and confidence indicators.
Responsiveness: Since conditions at sea are unpredictable, and no two operations are the same, DPOs should have the ability to control laser tilt, target acquisition, filters and all other aspects of sensor control, quickly and simply.
The 20-year development programme behind Fanbeam has enabled us to deliver an intelligent system, which gives reliability and accuracy in a range of applications and environmental conditions.
Designed to support large fleets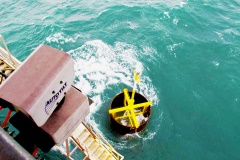 We work regularly with fleets on upgrades, full-fleet and part-fleet installations and servicing schedules. We offer:
plug-and-play upgrade options, at an attractive price
attractive multi-vessel pricing options
a fleet spare package, which minimises downtime for maintenance and servicing
a Repair by Exchange model, which keeps fleets working
Our sales and service team are skilled in working with fleet managers, understand the factors that drive successful DP operations, and would be happy to put together personal proposals for you.
Whether you are considering a laser position reference system for the first time, and would like to understand more about integrating this with other sensors, or whether you have used older versions of Fanbeam and wish to learn more about how Renishaw and Fanbeam 5 work together to offer an even more robust and intelligent system, do contact us.
Better target identification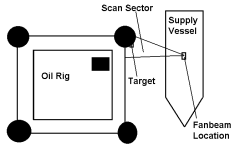 Fanbeam 5 works by sending out an invisible laser beam from a unit mounted on the aft of the vessel. This laser beam is reflected from a specifically designed target mounted on the installation, and received back into the Fanbeam unit.
Personnel on deck, or reflective surfaces are not a problem for Fanbeam 5, as its new intelligent systems use complex algorithms to identify and reject false targets.
Operators can pre-program range cut-offs for targets, so anything out of range is filtered.
On-screen indicators warn of potentially false targets.
A range of targets give accuracy in a variety of conditions: tube targets offer low-cost, 360° coverage for short-range operations. Fanbeam prism clusters provide reliable positioning at longer ranges.
A gyro interface enhances the ability to re-locate temporarily lost targets.
Auto-level filtering removes the need for operators to adjust settings in changing conditions.
Operators can tilt the laser during operations, allowing for fine tuning at any time during operations.
Downloads
Brochure: Fanbeam 5

It's the combined design of our targets, Fanbeam laser unit, software and interface that make Fanbeam the preferred laser-based position reference system. Our range of data ouputs, and the experience of fleets in combining Fanbeam with a range of other sensors and DP systems, make it ideal either for holding a vessel in station, or for moving a vessel with high levels of accuracy.

Data sheet: Fanbeam 5

Fanbeam's robust design and precision engineering result in a highly accurate and reliable laser Dynamic Positioning (DP) position reference system.