Manufacturing
Renishaw's world-class machining facility at Stonehouse, Gloucestershire carries out the machining of all the Group's piece part manufacturing operations within some 80,000 sq ft (7400 m²) of factory space.
Stonehouse manufacturing facility
Renishaw has transformed a typical portal-framed factory building into undoubtedly one of the best machine shop environments in the world. Significant improvements have been made to the environment through innovative ceiling design and construction to reduce noise levels, improved air-conditioning, the implementation of high specification oilmist extraction systems on almost all the machine tools, and the overall finish and appearance of the facility. Housing all these operations under one roof creates great benefits in improved organisation and efficiency.
In addition, there have been some significant capital commitments to coincide with the relocation, such as additional Mazak FJV machines, a new anodising plant, new auto-deburring and raw material processing equipment, and future plans for improvements to cleaning technologies used throughout the various stages of piece part production. We now have some 150 employees at Stonehouse, with 70 machine tools producing around 300,000 parts each month.
We have introduced tool-vending for consumable tooling, and machine 'hubs' that are local to each machine group and provide an area for storage and management of all tooling and inspection equipment, namely DCC CMMs and facilities that are required to support each small group of machines. Previously, these facilities were centralised and had become inefficient and ineffective for the size of our operation.
We have transformed the former Machine Hall at New Mills into a pre-production factory housing a model-shop and pre-production machine shop, as well as a pre-production electronics facility and nursery assembly cells.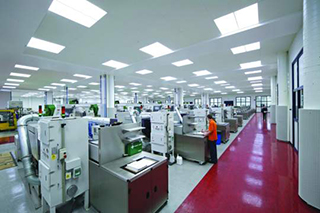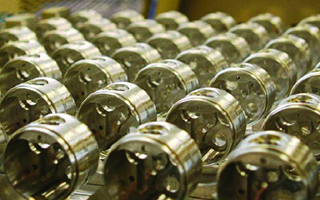 What others say about the Stonehouse facility
It is still a surprise to enter a machine shop that is so clean, quiet, bright and minimally populated with people unhurriedly focussed on supporting and maintaining capable processes that run automatically.
 Machinery magazine, Dec 2006