About OMP60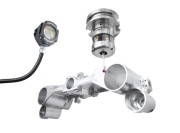 OMP60 probe is part of a new generation of optical transmission machine probes that are compatible with all Renishaw's optical receivers (both legacy and new generation). It brings the benefits of probing to a wide range of machining centres and mill-turn machines, offering users set-up time reductions of up to 90%, reduced scrap, reduced fixture costs, and improved process control.
Renishaw recommends using OMP60 with the OMI-2, OMI-2T and OMM-2 receivers with modulated transmission, although OMP60 is also compatible with existing OMI and OMM / MI 12 receivers, operating in legacy mode. This means that MP7, MP8, MP9 and MP10 users can upgrade to OMP60 and benefit from its innovative features.
OMP60M
The OMP60M is also available which enables probe inspection of part features that would be inaccessible to the standard OMP60. It allows fitment of adaptors, extensions and Renishaw's LP2 touch probe.
OMP60 features and benefits
Compact probe, measuring Ø63 mm x 76 mm long
360º infra-red transmission with 6 m typical operating range
Rejection of optical interference when used with OMI-2, OMI-2T or OMM-2
Simple installation and configuration
Multiple switch-on/switch-off methods
Backward compatible with existing Renishaw receivers
Uses readily-available AA batteries
OMP60 system options
| OMP60 with OMI-2T | OMP60 with OMI-2 | OMP60 with OMI | OMP60 with OSI / OMM-2 |
| --- | --- | --- | --- |
| | | | |
| Offers a state-of-the-art modulated optical transmission method and twin probing option. | Offers a state-of-the-art modulated optical transmission method. | Ideal for factory fitment by machine tool builders. | Offers a state-of-the-art modulated optical transmission method, enabling up to three probes to be used. |
OMP60 software options
The following software packages can be used to program probing routines for work piece set-up and inspection on CNC machining centres:
EasyProbe - entry-level package for simple work piece set-up
Inspection - basic set-up and work piece inspection cycles, with automatic update of offsets
Inspection Plus - an integrated suite of inspection cycles including vector measurement
Productivity+™ Active Editor Pro - a PC-based software package with GUI, allowing the user to select features directly from an imported CAD model, making the generation of probing cycles even easier.