Our business model
Our business model is based on customers needs, innovation and sustainable growth.
We identify customer needs and then apply innovative engineering to deliver successful solutions.
The business model we employ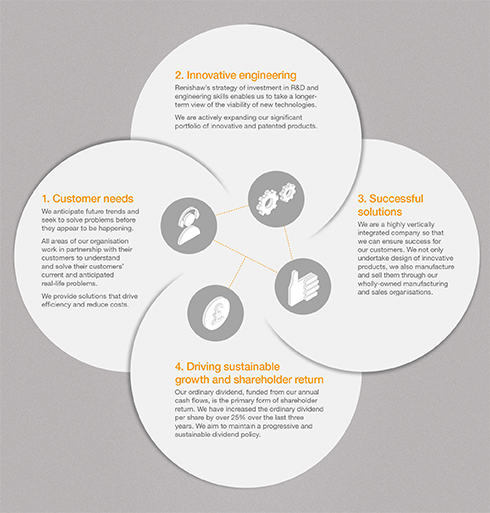 Find out more about our strategy. 
1. Customer needs
We anticipate future trends and seek to solve problems before they appear to be happening.
All areas of our organisation work in partnership with their customers to understand and solve their customers' current and anticipated real-life problems.
We provide solutions that drive efficiency and reduce costs.
2. Innovative engineering
Renishaw's strategy of investment in R&D and engineering skills enables us to take a longer-term view of the viability of new technologies.
We are actively expanding our significant portfolio of innovative and patented products.
3. Successful solutions
We are a highly vertically integrated company so that we can ensure success for our customers. We not only undertake design of innovative products, we also manufacture and sell them through our wholly-owned manufacturing and sales organisations.
4. Driving sustainable growth and shareholder return
Our ordinary dividend, funded from our annual cash flows, is the primary form of shareholder return. We have increased the ordinary dividend per share by over 25% over the last three years. We aim to maintain a progressive and sustainable dividend policy.