3-day Training workshops
Renishaw plc, Wotton-under-Edge, UK
Realise the full potential of your inVia Raman microscope. Gain a greater understanding of the powerful data processing and analysis techniques available in WiRE and how to apply them to your experiments.
Designed and delivered by our team of application experts, this 3-day programme is tailored specifically for new and intermediate Raman users. With a mixture of interactive tutorials and demonstrations, you will be guided through the capabilities of the inVia. You will then put these skills into practice with hands-on sessions, solving real-life data analysis problems.
You will learn to:
Maximise the efficiency of your inVia, so you can obtain high quality data quickly and easily
Optimise instrumental and experimental processes for different sample types and data requirements
Navigate the different software operations and instrument controls with confidence
Use fast imaging methods, such as StreamLine Plus™ and StreamLineHR™*
Verify the performance of your inVia*
Apply powerful data processing and analysis tools, including:

univariate data analysis
multivariate data analysis*
particle statistics

Experience Renishaw's very latest product and software offerings, including 3D Raman imaging and WiRE 4 software
*Content to be covered on Day 3 (optional).
Who should attend?
Raman Revealed is designed for new and intermediate users of Renishaw's inVia Raman microscope, who want to better apply the capabilities of the inVia and WiRE to their research/analytical work.
Days 1 and 2 are designed to reinforce fundamental skills, with a focus on optimising experimental parameters and univariate data analysis methods. Day 3 (optional) builds upon the skills gained on the preceding days, covering fast imaging methods (StreamLine Plus and StreamLineHR), and multivariate data analysis methods (DCLS, PCA and EmptyModelling™).
This workshop is run in English. For more details on course content, please see the Raman Revealed overview page.
This course does not include training on optical alignment or integrated techniques such as SEM-SCA or Raman-AFM. If you are an advanced user, or have specific training requirements, please email raman@renishaw.com to discuss bespoke training.
Previous delegates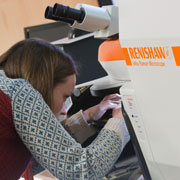 "Attending Raman Revealed was a real benefit to me and I plan to share the information I received with my colleagues. I would recommend it."
Nikolaus Martin, Hoffmann-La Roche
"I had a fun time. Meeting new people and seeing what they were using it for was very useful. I shall be putting the skills to use this week."
Experimental Officer, University of Bath
"I wanted to know more about the imaging capabilities which has proved useful."
PhD student, Lancaster University