About RLP40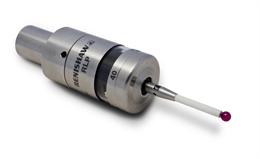 Where line-of-sight between an optical inspection probe and interface cannot always be maintained the application of the RLP40 with an RMI interface unit maintains reliable communications.
The RLP40 is sealed to withstand the extreme environment of lathes and turning centres. A proven eyelid protection system prevents entry of swarf and chips that would cause damage to the internal components of the probe. The RLP40 is built to the highest of standards and offers a truly unrivalled combination of size, accuracy, reliability and robustness that will benefit its users through reduced set-up times, reduced fixture costs, reduced scrap and improved process control.
For lathes or machining centres where part features are inaccessible to the OLP40 and RLP40, Renishaw offers the OMP40M and RMP40M, which enable fitment of adaptors, extensions and Renishaw's LP2 touch probe.
RLP40 features and benefits
Compact and robust
The RLP40 provides access for turning processes where a short probe length is required.
The robust design is suited to the harshest of machine environments.
Resistant to transmission interference
The radio frequency hopping of the RLP40 ensures reliable communications within the industrial environment.
Ideal for retrofit
The RLP40 operates with an RMI which can be positioned anywhere near the machine, resulting in a fast installation.
Eyelid protection
The RLP40 uses an eyelid protection system which ensures that swarf and chips cannot damage the internals of the inspection probes.
Miniaturisation
Miniaturisation of the electronics has allowed the development of ultra-compact lathe radio transmission inspection probes measuring only 40 mm in diameter and 58.3 mm in length; Renishaw's smallest wireless lathe probe systems.
Providing a solution for all turning centres
The radio transmission of the RLP40 allows continuous communication between the inspection probe and the interface even when line-of-sight is lost.
RLP40 software options
The following software packages can be used to program probing routines for work piece set-up and inspection on CNC machining centres
EasyProbe - entry-level package for simple work piece set-up
Inspection - basic set-up and work piece inspection cycles, with automatic update of offsets
Inspection Plus - an integrated suite of inspection cycles including vector measurement
Productivity+™ Active Editor Pro - a PC-based software package with GUI, allowing the user to select features directly from an imported CAD model, making the generation of probing cycles even easier.