About RMP60 (1st generation)

RMP60 is part of radio transmission part probing systems, ideally suited to large machining centres or where line-of-sight between probe and receiver is difficult to achieve.
RMP60 features an integrated probe module delivering exceptional robustness and generous overtravel.
RMP60 complies with FCC regulations and operates in the 2.4 GHz band. It delivers interference-free transmission through the use of FHSS (frequency hopping spread spectrum). This allows many systems to operate in the same machine shop without risk of cross-talk.

The RMI integrated interface/receiver is used to communicate between the RMP60 probe and the machine control.
The probe may be activated by RF signal initiated by an M-code, spinning or shank switch.
RMP60 (1st generation) has been superceded, and is no longer available from Renishaw.
RMP60M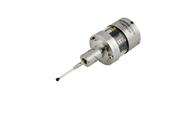 The RMP60M is also available which enables probe inspection of part features that would be inaccessible to the standard RMP60. It allows fitment of adaptors, extensions and Renishaw's LP2 touch probe.
RMP60 features and benefits
Compact size - 63 mm in diameter and 76 mm in length
2.4 GHz radio transmission allows single system for world-wide use
Simple setting - no channel selection required
Spherical transmission pattern with 15 m range
RMP60 and RMI systems allow multiple probes to be used, interference free, with one receiver
RMP60 software options
The following software packages can be used to program probing routines for work piece set-up and inspection on CNC machining centres:
EasyProbe - entry-level package for simple work piece set-up
Inspection - basic set-up and work piece inspection cycles, with automatic update of offsets
Inspection Plus - an integrated suite of inspection cycles including vector measurement
Productivity+™ Active Editor Pro - a PC-based software package with GUI, allowing the user to select features directly from an imported CAD model, making the generation of probing cycles even easier.