Existing features of Renishaw ballbar software
Comprehensive test and reporting
Ballbar 20 enables you to set up and run ballbar tests, either as a 'one off' or using a customer defined test template. Captured data can be displayed as analysis reports in a variety of international standards e.g. ISO 230-4, ANSI B5.54 etc., as well as a comprehensive Renishaw analysis format. In addition to the graphical trace display, Ballbar 20 software ranks each diagnosed error according to its impact on overall machine accuracy which is clearly stated along with a value for positional tolerance.
Machine performance history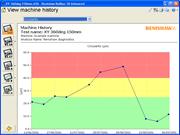 Using a customer defined test template to allow 'like for like' you can now clearly see how many of the machine performance characteristics measured by the ballbar (e.g. ISO 230-4 circular and radial deviations, positional tolerance, squareness, backlash etc) have varied over a period of time. In short, it compiles a complete ballbar 'medical record' for the machine!
The plots make trends clearly visible, allowing maintenance requirements to be scheduled in advance, whilst plot discontinuities help fault diagnosis after a machine crash.
You can also set warning and failure tolerances on any of the machine's characteristics measured by the QC20-W ballbar. Once set, these tolerances are displayed on the history graphs and are also used to instantly check the results of every ballbar test as it is carried out. 
'Part program generator'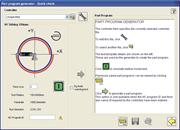 This enables you to quickly and automatically generate ballbar test CNC part programs.  Just set up the test and then select a machine controller type (several defaults supplied with the software but these can be added to and customised).  With a single click you can then generate a programme for further editing if required and downloading for transfer to the CNC.  Generated programmes can be stored in the software for future use.
Ballbar plot simulator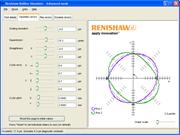 Predicts the effect of maintenance and adjustment on a machine's performance.
Allows the user to see the test results recreated on screen, and then has the facility to change various machine geometry, play and dynamic parameters, to try 'what if' scenarios on the ballbar plot and on circularity and positional tolerance values. As this is done on a separate simulator there is no chance of corrupting the original test data.
Multilingual support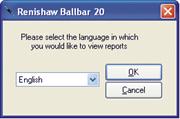 Ballbar 20 software includes the following supported languages: English, Czech, French, German, Italian, Portuguese, Russian, Spanish, Japanese, Korean and Chinese. Please check for latest language options. Note that Ballbar 20 allows alternative language report generation, independent of the software operating language, ideal if you need to supply test reports to overseas customers.
Comprehensive file administration.
Set up folders for machine location, machine type etc. so that test data is easily located.
Selectable user modes
Ballbar 20 is simple to use, but with 3 different operation modes you can restrict the options available to suit your needs and the level of operator skills and authorisation.
Quick Check - Use for one-off testing of machines with different set-ups.
Operator - Use for regular comparative testing of a machine's condition. Pre-defined test templates speed up the machine check and ensure consistency of set-up.
Advanced - Full access to set-up, edit and organise machine data