The four layers
Explore the four layers to unlock the key to predictable, productive manufacturing.
Process foundation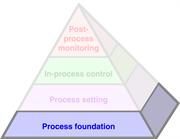 The process foundation layer is about providing a stable environment in which the process is to be performed.  This includes optimising and monitoring the performance of the machine itself. 
These are preventative controls that reduce the number of sources of variation before machining starts.
Process setting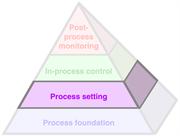 The process setting layer deals with sources of variation such as the location of the part, the size of tools, and offsets on the machine which could otherwise cause non-conforming components. 
These are predictive controls that are applied just before cutting starts.
In-process control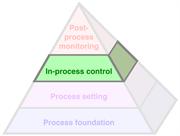 The in-process control layer tackles sources of variation that are inherent to machining, such as tool wear and temperature variation, providing intelligent feedback to the process and decision-making as machining progresses. 
These are active controls that are applied during metal cutting.
Post-process monitoring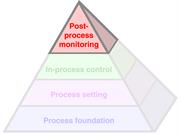 Finally, the post-process monitoring layer concerns checking the process and the finished part against their specifications, as well as logging process routes and outcomes. 
These are informative controls applied after machining is complete.