New home for iconic laser scanners
The new place to find out more about Quarryman®, Fanbeam®, Dynascan, Boretrak® and C-ALS® is at www.renishaw.com
New online home for iconic laser scanners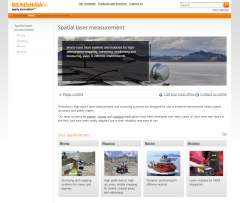 Mining and quarrying laser measurement specialist MDL has now fully rebranded following its acquisition by leading global engineering technologies company Renishaw plc. The change will affect the look and the ongoing development of some of the industry's most iconic and well-loved products: Quarryman®, Fanbeam®, Void Scanner, C-ALS®, Boretrak® and Dynascan, and the old MDL website will now take customers to product and servicing information on the Renishaw site.
An intensive programme of investment, review and development, which followed the full integration of MDL into Renishaw plc in 2013, was completed earlier this year. MDL is now rebranding, building on its confirmation as the Spatial Measurement Division of Renishaw plc, with new product literature and new product badging backed by Renishaw's award-winning production facilities, research and development expertise and global service centres.
Renishaw is confident that the changes to the production, marketing and service options for Fanbeam®, Quarryman®, Void Scanner, C-ALS®, Boretrak® and Dynascan will result in increased customer interest in the safety and productivity benefits, which all systems offer.
William Lee, a Director and General Manager at Renishaw, said: "Customers will continue to benefit from the decades-long heritage of MDL in pioneering new technology for the mining industry, and developing products based on customer need. They will also now benefit from Renishaw's considerable expertise in precision engineering. Renishaw remains committed to further development of spatial laser measurement systems, including those for the mining and quarrying industries, focusing on increasing productivity and profitability for our customers, in even the toughest of environments."
The former teams at MDL remain, supplemented by new, expert resource in software development, production, research and development and business systems.
Over the coming months and years Renishaw customers will see:
Larger research and development programmes to support products for a range of industries
Expanded production capacity for many systems, both at the former MDL headquarters in York, and at Renishaw's Gloucestershire assembly facility, winner of the Best UK Electrical and Electronic Production Plant 2012
An increased focus on software, which can help customers in the field collect, interpret and act on data, quickly and safely
Better servicing and calibration support for customers, drawing on the global service centre model used by Renishaw plc 
Notes
1. Renishaw plc is a British-based FTSE-250 engineering technologies company with more than 70 offices in 32 countries. Since its formation in 1973 Renishaw has won numerous awards, including 17 Queen's Awards, recognising Technological Achievement, Export Achievement and Enterprise (Innovation). For more information: www.renishaw.com
2. MDL was fully incorporated into Renishaw in July 2013. The design, production, servicing and promotion of all former MDL products is now managed by the Spatial Measurement Division of Renishaw. Many of the former MDL team remain in post, and are supported by new resources in many departments.
3. The MDL website at www.mdl.co.uk and www.mdl-laser.com will now take visitors straight to the Spatial Measurement pages on the Renishaw website www.renishaw.com/spatialmeasurement