About Renishaw
Renishaw fundamentally believes that success comes from patented and innovative products and processes, high quality manufacturing, and the ability to provide local customer support in all its markets around the globe.
About us
Renishaw is a global company with core skills in measurement, motion control, spectroscopy and precision machining. We develop innovative products that significantly advance our customers' operational performance - from improving manufacturing efficiencies and raising product quality, to maximising research capabilities and improving the efficacy of medical procedures.
Our products are used for applications as diverse as machine tool automation, co-ordinate measurement, additive manufacturing, gauging, Raman spectroscopy, machine calibration, position feedback, CAD/CAM dentistry, shape memory alloys, large scale surveying, stereotactic neurosurgery, and medical diagnostics. In all of these areas we aim to be a long-term partner, offering superior products that meet our customers' needs both today and into the future, backed up by responsive, expert technical and commercial support.
Brief history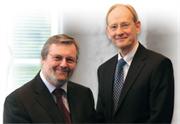 Renishaw was established in 1973 by David McMurtry (now Sir David McMurtry), Chairman and Chief Executive, and John Deer, now Deputy Chairman. The company's first product, the touch-trigger probe had been invented by Sir David to solve a specific inspection requirement for the Olympus engines used on the supersonic Concorde aircraft. This innovative product led to a revolution in three-dimensional co-ordinate measurement, enabling the accurate measurement of machined components and finished assemblies.
Throughout our history we have made a significant commitment to research and development (R&D), with around 15 to 18% of annual sales invested in R&D and engineering. This has enabled the company to diversify into sensors for CNC machine tools which are used for automating machine setting operations and in-process part measurement, position encoders for accurate motion control, laser interferometry for machine performance evaluation, systems to produce dental crowns and bridges, Raman microscopes for spectral analysis of materials, gauging technology, additive manufacturing and rapid prototyping, laser measurement and surveying systems, diamond-like carbon coatings and shape memory alloys, medical devices for neurosurgical applications, and products to improve the diagnosis of human infectious diseases.
The majority of our R&D and manufacturing is carried out in the UK, primarily in the County of Gloucestershire, where our headquarters are based on the site of a former 19th Century mill used to manufacture woollen cloth. We also have assembly facilities located near to Dublin, Ireland and in Pune, India. In 2011 we acquired the former Bosch manufacturing facility at Miskin, near Cardiff, in South Wales; manufacturing commenced there in May 2012.
We have a strong global presence, with more than 60 offices in 32 countries and some 94% of our sales are made outside the UK. Since our formation in 1973 we have won numerous awards, including fifteen Queen's Awards, recognising Technological Achievement, Export Achievement and Enterprise (Innovation).
Our products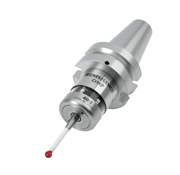 For machine tool users probes for CNC machine tools allow automated tool setting, workpiece set-up, in-cycle gauging and part inspection on CNC milling machines, machining centres, CNC lathes and mill-turn machines. Products available include laser tool setters, contact tool setters, tool breakage detectors, touch probes and high accuracy inspection probes. To check the performance of a CNC machine tool the Renishaw QC20-W ballbar provides a simple, rapid check of a machine's positioning performance to recognised international standards.
Our innovative sensors for co-ordinate measuring machines (CMMs) are an industry standard, from basic touch-trigger probes and manual probe heads, through to automated stylus changers, automated probe changers, motorised indexing probe heads and revolutionary five-axis measurement systems. A full range of probe styli/probe tips is also available.
In motion control Renishaw's laser encoders, optical linear encoders, optical angle encoders, optical rotary encoders, magnetic rotary encoders, magnetic chip encoders and magnetic linear encoders are used for position feedback applications in industries as diverse as electronics, motorsports, bomb disposal, semi-conductors, food manufacturing and print production. Latest developments include a true absolute, fine-pitch optical encoder system.
To assess, monitor and improve the static and dynamic performance of position-critical motion systems, including CMMs, CNC machine tools, PCB drilling and pick-and-place machinery, our laser interferometer and environmental compensation system offers a linear measurement accuracy of ±0.5 ppm, readings of up to 50 kHz and a linear measurement speed of up to 4 m/s, with a linear resolution of 1nm.
We are also a recognised leader in Raman spectroscopy, where our optical spectroscopy products exploit the Raman effect in a non-contact, non-destructive manner, to identify and characterise the chemistry and structure of materials. A diverse range of analytical applications include pharmaceutical, carbon and diamond, material science, gemology and mineralogy, forensic science, nanotechnology, biomedical and semiconductors. Products include Raman microscopes, compact Raman spectrometers for process monitoring, Raman analysers for scanning electron microscopes, cooled CCD detectors and lasers for spectroscopy.
In the world of dentistry, we are the world's leading supplier of in-lab dental CAD/CAM systems. Our products include a high-accuracy 3D contact dental scanner, powerful CAD design software and a unique dental milling system. Dental laboratories can manufacture high quality zirconia frameworks or copings either in-lab or by using our central manufacturing centre, where we also offer cobalt chrome frameworks.
With an increasing focus on the healthcare sector, we now offer medical devices, surgical robots and planning software for use in stereotactic neurosurgery for procedures including Deep Brain Stimulation (DBS), Motor Cortex Stimulation (MCS), Stereo Electro-Encephalography (SEEG), neuro-endoscopy, radio-surgery, biopsy and Transcranial Magnetic Stimulation (TMS).
We have also entered the field of medical diagnostics with the creation of Renishaw Diagnostics Ltd, which aims to become the premier provider of automated multiplex diagnostic and clinical research systems for fast, reliable and simplified disease detection.