Beamline Raman systems
Beamline systems are at the cutting-edge of scientific research. Three decades of metrology experience have ensured that Renishaw has been selected to provide Raman capabilities for a number of customised beamline Raman systems, including three systems at the European Synchrotron Radiation Facility (ESRF) facility in Grenoble, France.
Simultaneous Raman and XRD at the ESRF microfocus beamline (ID13)
A system allowing in-situ and ex-situ microRaman Spectroscopy facilities to complement the X-ray techniques of microfocus WAXS/SAXS.
This installation consists of two parts. The core is an inVia microscope Raman system offering ex-situ sample characterisation capabilities for selecting and mapping regions of interest both before and after X-ray data collection. The second part is a configuration with a proprietary Raman probe design that can be retracted and re-inserted into the X-ray beam with micrometer precision.
For more information please go to the ID13 Raman Spectroscopy website.
XRD/XAFS-Raman solution at Daresbury synchrotron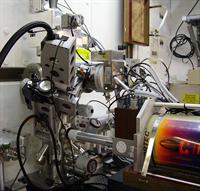 A special optical fibre Raman probe system has been developed for the University of Southampton as part of a combined x-ray diffraction, x-ray absorption fine structure and Raman spectroscopy system. The photograph shows the apparatus on-line at the SRS in Daresbury (UK).
Publication
High-Throughput Structure/Function Screening of Materials and Catalysts with Multiple Spectroscopic Techniques (2007), Tromp et al, AIP 2007, CP882, 858
CLSM-Raman system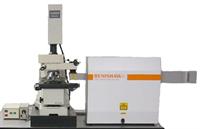 The rapid imaging and high spatial resolution of confocal laser scanning microscopy (CLSM), augmented with the chemical specificity of Raman spectroscopy.
We have coupled inVia Raman microscopes to a number of CLSM systems including those manufactured by Leica and Olympus. Lasertec use the inVia Raman microscope as a basis for their VL2000D-RM Raman-CLSM system.
Publication
Microbially influenced formation of 2,724-million-year-old stromatatolites (2008), K. Lepot et al, Nature geoscience, 1, 118-121
Custom system examples
The team has produced more than one thousand customised products, with many being further developed into standard products. Here are some examples:
Portable Raman analyser
Laser tweezing Raman system
Microscope macro adapter
Forensic document analysis system
Flat panel display inspection station
Remote microscope system
Remote shutter for Raman microscope
Sample micro-manipulator
Microplate reader
Contact us to discuss your particular requirements.