2014 Graduate Scheme
Renishaw constantly strives to recruit and develop talented individuals, a belief that is as important to us as designing measurement and inspection equipment and software. Part of Renishaw's ongoing success is due to its commitment to investing in the training and development of its staff.
Opportunities for students and graduates
 We offer the following streams:
| Applications engineer |   | Electronic engineer |   | Manufacturing engineer |   | Mechanical engineer |
| --- | --- | --- | --- | --- | --- | --- |
|     |   |    |   |    |   |    |
| Physics / Scientific |   | Software engineer |   | Project Coordinator |   | Commercial |
|    |   |   |   |    |   |    |
What does the scheme involve?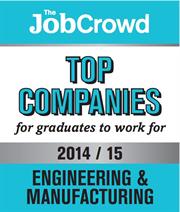 The graduate training programme is designed to strike a balance between structure and flexibility. The basic principle is that graduates are aware of the opportunities within the company and so have enough information to make informed choices as their careers develop.
The main features of the graduate programme are:
Up to 2 years of flexible placements
Company induction programme
Job-specific training, skills and knowledge
Hundreds of possible career paths
Training and support is structured to suit both individual and company needs. At any time during their employment with Renishaw, engineers may apply and work towards Chartered status. All graduates are allocated a mentor to help guide them through their initial few years in the company. Many graduates go on to forge a long and successful career at Renishaw. A number of directors and operations managers have come into the business as graduates and apprentices and have been given opportunities to move up through the business.
Upon completion, graduates will move into an appropriate position within one of Renishaw's product divisions.
Company Benefits:
Competitive salary reviewed annually
25 days annual leave, plus bank holidays
Support to gain chartered status
Medical and life assurance
Defined pension scheme – 9% company contribution
On site fitness centres
Location:
Most positions are available at our sites in Gloucestershire, north of Bristol. We also have a limited number of positions available at our sites across the UK, in Staffordshire and Scotland.
Due to very limited public transport links in the area, having your own transport is essential.
Application process:
Applications are now open for our 2014 intake.  Please apply via the relevant stream above by uploading your CV and completing the downloadable form.
The deadline for applications is 30th June 2014.
We will invite successful candidates to one of our assessment days, held in 2014.
Please note:
Applicants must be eligible to work in the UK and have a valid visa where applicable.