neuromate® stereotactic robot
The neuromate® system offers you the possibility to develop innovative and productive ways of working.
What can the neuromate® robot be used for?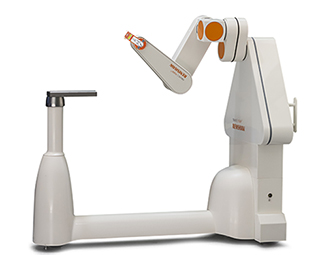 The neuromate® stereotactic robot provides a platform solution for a broad range of functional neurosurgical procedures. It has been used in thousands of electrode implantation procedures for deep brain stimulation (DBS), and stereoelectroencephalography (SEEG), as well as stereotactic applications in neuroendoscopy, biopsy, and many other research applications.
Highlights
The neuromate® robot provides consistent, rapid and precise targeting in stereotactic procedures.
The neuromate® system is routinely used in most centres where it is in operation and has pride of place as the cornerstone of functional and stereotactic procedures.
The neuromate® robot can be used with a stereotactic frame, or in frameless mode for reduced patient trauma. It is also compatible with procedures using both general and local anaesthesia.
Software
The neuromate® robot is supplied with a navigation and planning system that supports 2D and 3D image registration and frame-based or frameless navigation (most available stereotactic frames are supported).
Regulatory
The neuromate® stereotactic robot is both CE marked device and cleared for sale in the USA.
The neuromate® stereotactic robot is manufactured in an ISO 13485:2012 compliant environment and it is classified as a Class IIb (EU)/Class II (USA) medical device.
Introducing the neurolocateTM registration module
We are pleased to bring you the latest module to complement the neuromate stereotactic robot. It brings you frameless registration with frame based accuracy.
The precision of robotic guided SEEG has revolutionised surgery to cure epilepsy, allowing us to offer cures to a whole new cohort of patients
Mr. David Sandeman
Consultant neurosurgeon
Southmead Hospital, Bristol, UK
Accessories and options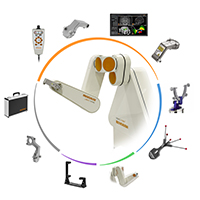 A wide range of options for the neuromate® stereotactic surgical robot, including head holders, CT image localizers, frame attachments, remote controls and software.
In SEEG we place up to 20 intracerebral electrodes in order to identify the epileptogenic zone and map eloquent structures. Thanks to the use of the neuromate® system, every target can be reached with a combination of speed and submillimetric accuracy.
Dr. Francesco Cardinale
Neurosurgeon
Ospedale Niguarda Ca'Granda, Milan, Italy