Laser system manuals
Laser manuals are supplied on the 'XL-80 laser system manual' CD. A copy is supplied with each XL-80 and XC-80 but further copies are available free of charge to all Renishaw laser users. Making extensive use of graphics, it details the system hardware, software and operational use.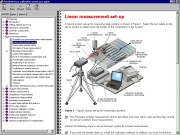 Initial sections introduce the user to the laser system and give basic information on set-up, data capture and analysis. Subsequent sections provide the user with more detailed information for each specific type of measurement. This contains written and illustrated set-up procedures for each measurement, calibration tips and analysis information. Index and search facilities provide easy navigation around the manual. Hotlinks within the text take users directly to related and additional information as required.
Laser manuals can be used on a "stand alone" basis or installed and integrated with the LaserXL™ or Laser10 software so that they are always available via a link from the measurement software.
QC20-W ballbar manual
Installed as part of the Ballbar 20 software, the content can be accessed from within main programme by clicking 'help'. On the report pages, clicking on the hotlinks within the text take users directly to an explanation of the indicated error, an explanation of possible causes and some suggestions for reducing the error.
Language support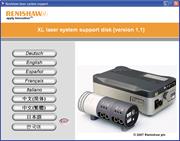 Manuals on CD are supplied in a multilingual format. The QC20-W manual is available in all supported software languages whilst laser system manuals have all main sections translated, with a programme of developing the additional 'English Only' sections into other languages. Currently, downloads are 'English only'.