About MP1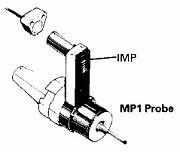 The MP1 is ideal for small machining centre applications, and uses either hard-wired or inductive transmission. Inductive transmission allows for automatic tool changing of the probe, as both power and probe signals are transmitted across a small air gap.
For end-user applications on small machines, Renishaw recommends the OMP40 probe with infra-red optical transmission.
MP1 features and benefits
Designed for fitment by machine builders
Design provides inherent repeatability for all stylus configurations
Modular range of extensions and adaptors available
MP1 system options
Inductive transmission is not recommended for retrofit installations. Machine builders should contact their Renishaw supplier for further details.
| MP1/S with IMP/IMM | MP1/R with IMP/IMM |
| --- | --- |
| Side electrical transmission | Rear electrical transmission |
MP1 accessories and ordering information
Please contact your local Renishaw office to help design the MP1 system most suited to your application. Specific dimensions need to be established to choose the correct IMP inductive module for your system.
MP1 probes
| Part number | Description |
| --- | --- |
| A-2051-4576 | MP1/S probe kit |
| A-2051-4577 | MP1/R probe kit |
MP1 accessories
| Part number | Description |
| --- | --- |
| A-2051-7080 | MA1 probe adaptor |
| A-2051-7146 | MA1-R probe adaptor |
| A-2051-4777 | MP1/R 3-way mounting block |
MP1 replacement parts
| Part number | Description |
| --- | --- |
| M-2051-4522 | MP1/S probe seal |
| M-2054-6583 | MP1/R probe seal |
| A-2051-7105 | Outer diaphragm replacement kit |
| A-2053-7531 | TK1 tool kit |
| P-SC01-0430 | M4x30 screws (used with MA1 adaptor) |