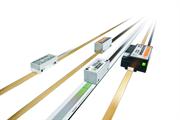 Renishaw offers a wide range of high speed, absolute and incremental optical linear encoder systems, to meet the diverse requirements of industrial automation.
Renishaw's optical linear encoders provide zero mechanical hysteresis and excellent metrology. The unique filtering optics withstand a variety of contaminants such as dirt, dust and scratches. Renishaw's encoders ensure that customers' machines run reliably with little or no maintenance.
All linear optical encoder and interface combinations feature an integral set-up LED on the readhead, which speeds installation and removes the need for complex set-up equipment. The newly launched miniature ATOM linear encoder is ideally suited to a variety of space-critical motion control, inspection and metrology applications. Stainless steel spar/tape is provided in cut-to-measure lengths and glass spar, for ATOM, is available in defined lengths to 130 mm. All scale types have the option of self-adhesive backing, which eliminates drilling and tapping, saving time and money.
Upgrade to the TONiC™ linear encoder system
Need a miniature encoder solution? Choose the new 
ATOM linear encoder system