RenDx SA-2000 sample analyser
Providing rapid identification of dye-labelled nucleic acid targets.
Overview
The RenDx SA-2000 Sample Analyser is a purpose-built instrument with an integrated software package that allows rapid identification of dye-labelled nucleic acid targets via surface enhanced resonance Raman scattering (SERRS).
The analyser contains a precision stage that allows automated analysis of a full 96-well detection plate in 15-30 minutes.
The analysis software interprets the collected data, requiring no user input, and produces an unambiguous report within seconds of completion of analysis.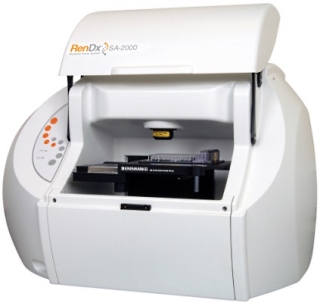 Key features
Detection up to 12 targets from a single sample.
Molecular specificity of Raman provides a greater multiplexing potential compared to traditional fluorescence.
Higher sensitivity than fluorescence.
Simple, intuitive user interface.
Analysis of 92 samples/controls in around 30 min.
Automated analysis software requires no spectroscopic interpretation.
Unambiguous report generation.
Minimal user maintenance.