DX10 interface kit (USB)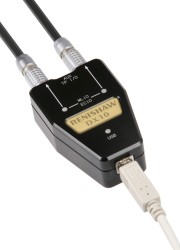 The DX10 replaced the PCM20 (PCMCIA) card as the standard interface offered for ML10 and EC10 to PC laptop communications. It is equally suitable for desktop PCs, replacing the PC10 interface card (now obsolete). The DX10 is a reliable high speed communications device, transmitting data at 5 kHz directly to Laser10 and QuickView™ software.
Measuring only 78 mm x 51 mm x 27 mm and weighing in at only 158 g (plus USB cable) the DX10 is rugged and built to survive workshop usage. In built LEDs provide visible indication of communications status.
The DX10 is compatible with Microsoft Windows® XP (SP 1 and 2),  Microsoft Vista™ and Windows® 7, but is not compatible with earlier versions of Microsoft Windows® operating systems.
DX10 device drivers are available free of charge for existing users (versions for 32-bit and 64-bit).
For dual axis data capture, simply use two DX10 interfaces which can be plugged into two separate USB ports or a separate hub.
Each DX10 kit contains:
DX10 interface (USB)
5 metre USB cable
DX10 driver installation CD-ROM
| Part number | Product |
| --- | --- |
| A-8003-3116 | DX10 interface kit (USB) |