VIONiCplus™ incremental encoder system with RTLC20 linear scale
Features
Digital output direct from the readhead
Readhead size: 35 x 13.5 x 10 mm
Resolutions to 2.5 nm
Speed to 3.63 m/s
Ultra-low Sub-Divisional Error (SDE): typically <±10 nm
Optical IN‑TRAC™ reference mark
Dual limits
Benefits
No need for separate interface
Advanced Diagnostic Tool for easy fault finding, challenging installations and servicing
Tape scale convenience and unrivalled ruggedness
Carrier-type scale system for quick, easy installation and replacement of scale

What is VIONiCplus?
VIONiCplus integrates Renishaw's filtering optics design and interpolation technology to create a high performance, super-compact, digital all-in-one incremental open optical encoder. It offers resolutions down to 2.5 nm and a wide range of configurations to optimise the speed of your motion control system. VIONiCplus systems are quick and simple to install with wide set-up tolerances and automatic calibration. VIONiCplus implements our latest interpolation algorithms and signal processing techniques to achieve a typical Sub-Divisional Error of <±10 nm. This is world-leading performance from a 20 µm pitch incremental encoder system.
The Advanced Diagnostic Tool aids fault finding and servicing, and assists optimisation of system setup for challenging installations.
What is RTLC20 scale?
RTLC20 is a low profile stainless steel tape scale featuring 20 µm pitch incremental graduations and IN-TRAC customer selectable reference marks. It is accurate to ±5 µm/m and in lengths up to 10 metres. Two mounting options are available, both allow independent thermal expansion and tape scale convenience. 
RTLC20 can be used with the revolutionary FASTRACK™ scale carrier system. This system allows a track to be laid quickly and easily with no need for fixing holes. A sacrificial spacer is removed and the tape is then fed into the track.
RTLC20-S is laid onto the substrate with self-adhesive backing tape. The self-adhesive is formulated in such a way that it allows for independent scale expansion to that of the substrate.
To complete the installation, both types of scale are clamped at one point to provide a datum position.
Why choose this encoder system?
World-leading performance from a 20 µm pitch incremental encoder system
VIONiCplus, using our latest interpolation algorithms and signal processing techniques, can achieve a Sub-Divisional Error (SDE) as low as ±10 nm. Low SDE directly equates to low velocity ripple which is important for constant velocity applications, such as scanning measurement systems. VIONiCplus' intelligent interpolation chip can achieve 8 000 x interpolation which equates to 2.5 nm resolution directly out of the readhead. This system is used when precision and repeatability is of paramount importance.
Easy fault finding and servicing
The Advanced Diagnostic Tool is available for comprehensive encoder feedback . This can be used for challenging installlations and fault finding. It provides:
Remote calibration functions
Signal optimisation over axis length
Readhead pitch indication
Limit and reference mark indicators
DRO and lissajous outputs.
Easily removable scale
RTLC20/FASTRACK is ideal for applications that need the machine to be broken down for transportation or require the scale to be installed/removed for transit. The scale can be pulled out of the guide rails and quickly replaced, even when access is limited, thus reducing machine downtime.
Optional Advanced Diagnostic Tool ADTi-100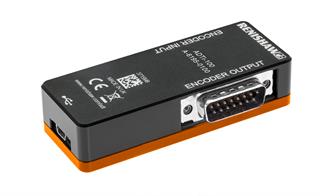 The VIONiC encoder system is compatible with the Advanced Diagnostic Tool ADTi-100 and ADT View software. They provide comprehensive real-time encoder data feedback to aid more challenging installations and diagnostics. The intuitive software interface can be used for:
Remote calibration

Signal optimisation over the entire axis length

Readhead pitch indication

Limit and reference mark indication

Digital readout of encoder position (relative to the scale)

Monitoring the velocity against time graph

Exporting and saving data
Measuring standard

FASTRACK RTLC20: stainless steel tape scale with track mounting system

RTLC20-S: stainless steel tape scale with adhesive backing, for mounting directly to a substrate without FASTRACK guide rails

Readhead size (LxHxW)

35 mm x 13.5 mm x 10 mm

Scale pitch

20 μm

Thermal expansion coefficient at 20 °C

10.1 ±0.2 μm/m/°C

Accuracy grade at 20 °C

±5 μm/m

Reference mark

IN-TRAC reference marks directly embedded into RTLC20 / RTLC20-S

Selector magnet(s) used to identify one or more reference marks

Limit switches

Dual limits

Scale length

FASTRACK: 100 mm to 25 000 mm

RTLC20/RTLC20-S: 20 mm to 10 000 mm


Maximum speed




Up to 3.63 m/s

(See data sheet for details)


Sub-Divisional Error (SDE)

Typically <±10 nm

Dynamic signal control

Real time signal conditioning including Auto Gain Control (AGC), Auto Balance Control (ABC) and Auto Offset Control (AOC) for optimised performance across a range of operating conditions

Incremental signals




0.1 μm to 2.5 nm resolution

(See data sheet for details)

Electrical connection

0.5 m, 1 m, 1.5 m, 2 m and 3 m cable lengths with D-type connectors (9 and 15 pin) or circular in-line connector (12 pin)

Power supply

5 V -5%/+10%, typically <200 mA fully terminated

Vibration (operating)

100 m/s2 max at 55 Hz to 2 000 Hz

Shock (non-operating)

500 m/s2, 11 ms, ½ sine, 3 axes

Operating temperature

0 °C to +70 °C

Sealing

IP40
Refer to data sheets for full details.
VIONiCplus features the third generation of Renishaw's unique filtering optics that average the contributions from many scale periods and effectively filter out non-periodic features such as dirt. The nominally square-wave scale pattern is also filtered to leave a pure sinusoidal fringe field at the detector. Here, a multiple finger structure is employed, fine enough to produce photocurrents in the form of four symmetrically phased signals. These are combined to remove DC components and produce sine and cosine signal outputs with high spectral purity and low offset while maintaining bandwidth to beyond 500 kHz.
Fully integrated advanced dynamic signal conditioning, Auto Gain , Auto Balance and Auto Offset Controls combine to ensure ultra-low Sub-Divisional Error (SDE).
This evolution of filtering optics, combined with carefully selected electronics, provide incremental signals with wide bandwidth achieving a maximum speed of 12 m/s with the lowest positional jitter (noise) of any encoder in its class. Interpolation is within the readhead, with fine resolution versions being further augmented by additional noise-reducing electronics to achieve jitter of just 1.6 nm RMS.
The IN-TRAC reference mark is fully-integrated in the incremental scale and is detected by a split photodetector within the readhead. As the diagram shows, the reference mark split detector is embedded directly into the centre of the incremental channel linear photodiode array ensuring greater immunity from yaw-dephasing. This unique arrangement also benefits from an automatic calibration routine that electronically phases the reference mark and optimises the incremental signals.