New pocket guide for Renishaw's non-contact incremental and absolute encoder range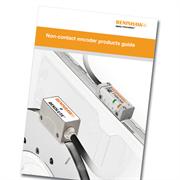 Renishaw offers a wide range of high-quality position feedback systems for a diverse range of linear and rotary motion applications. A new pocket guide highlights its range of encoders, including incremental and absolute versions of both rugged magnetic encoders and precision optical encoders, and products for ultra-high vacuum (UHV) applications.
The new pocket-sized guide offers a simple introduction to Renishaw's comprehensive product range and is a useful reference source for customers looking for a competitive advantage for their machines. This handy guide summarises key system benefits enabling motion system designers to select the most suitable encoder, whether they are an experienced user considering upgrades, or if they are designing a system with an encoder for the first time.
Renishaw's flagship encoder system, RESOLUTE™, is featured in the guide. A true absolute, fine pitch, optical encoder system, RESOLUTE has excellent dirt immunity and an impressive specification. Offering 1 nm resolution at 100 m/s, it breaks new ground in position feedback.
Highlights also include the super-compact TONiC™ optical encoder that offers speeds up to 10 m/s and resolutions down to 1 nm. TONiC is also available with FASTRACK™, a revolutionary track-mounted linear scale that combines ±5 µm/m accuracy with the ruggedness of stainless steel and the quick and easy installation of a carrier-type encoder system.
For harsh environments and extreme service, Renishaw offers a range of rugged linear and rotary magnetic encoders, which are highly resistant to shock, vibrations, pressure and chemicals. Magnetic encoder ICs and encoder modules are also covered.
Download pocket guide
Pocket guide: Non-contact position encoders

Renishaw offers a wide range of precision position feedback systems for a diverse range of linear and rotary motion applications. From our range of robust magnetic encoders for incremental and absolute requirements, through to high speed optical linear encoders and precision optical angle encoders, we can meet your motion system requirements, including ultra-high vacuum (UHV) applications.

[3.8MB]
Image downloads