Checking trigger force with the Renishaw gram gauge
1. Ensure that the probe is held firmly in position (preferably on a CMM) and connected to an interface to detect a probe trigger.
2. Establish the direction of trigger which gives the minimum resistance. The most practical way of doing this is to gently deflect the stylus with a finger, trying different directions. There are three lobes which produce three maximum and three minimum force directions. These can easily be found with a minimum of practice.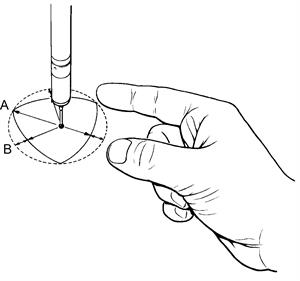 3. Set the gram gauge maximum force indicator to the zero point and place the gram gauge flat on the CMM table. Move the stylus tip to the same height above the surface as the gram gauge lever.
4. Slide the gram gauge slowly sideways so that the flat point on the end of the lever touches the probe stylus ball (ensuring that the probe is deflected in the low force direction). Very slowly continue to move the gram gauge until the probe triggers, at which point stop immediately, back off the gauge and read the maximum force indicator.
5. Repeat this procedure three or four times to ensure consistent results.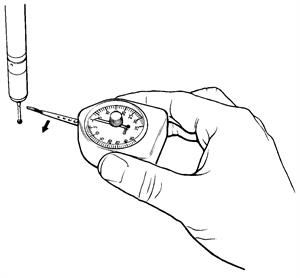 NOTE: To convert gf to Newtons the following formula is required:
Newtons = gf / 100