Metrology software
Powerful metrology software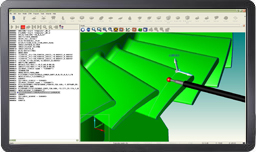 Renishaw's metrology software provides a powerful platform for 5-axis measurement. A configurable user interface allows native DMIS programs to be developed offline, drawing geometry, embedded dimensions and tolerance data from CAD, with full simulation and collision detection. The software includes certified algorithms for feature measurement, feature construction and part alignment.
Programs can be created offline directly from CAD with on-screen probe path verification. The CMM environment, the fixture and the location of the part on the machine can all be defined, enabling full simulation and crash detection of 5‑axis measurement programs. This minimises CMM down-time as programs arrive at the machine ready to run, with little or no prove-out time required.
Future proof
The MODUS metrology software suite is a future-proof investment, ensuring guaranteed availability of the latest sensor and controller technology advancements from Renishaw. This will include future sensors for the 5-axis measurement product range, which represents the biggest step-change in measurement capability ever introduced and delivers unprecedented speed and measurement flexibility, whilst avoiding the speed versus accuracy compromises inherent in conventional techniques.