TP6 / TP6A / TP6H
TP6 / TP6A / TP6H
TP6 probe is an M8 thread mounted probe
TP6A has an integral autojoint for quick and repeatable probe changing
TP6H is a high force M8 thread mounted probe
Long stylus carrying capability
Robust probes with large overtravel and adjustable trigger force
M3 stylus mount
Dimensions
TP6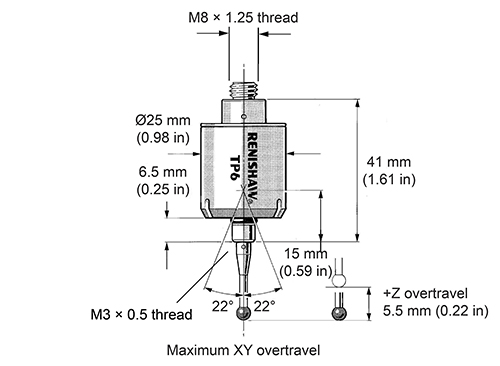 TP6A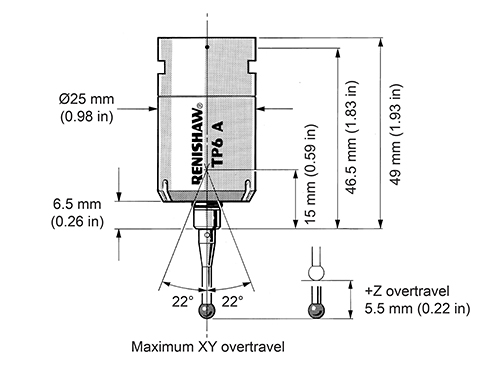 Specification
TP6* and TP6A*
TP6H

Principal application

Robust universal DCC and manual CMMs
TP6A has an integral autojoint for fast probe exchange without requalification
As TP6 but with a higher spring force for longer styli

Sense directions

5-axis: ±X, ±Y, +Z
As TP6

Unidirectional repeatability maximum (2σ μm) (at stylus tip)

0.35 μm (0.000014 in)
0.7 μm (0.000028 in)

Pre-travel variation 360° (XY plane)

±1 μm (±0.00004 in)
±1.4 μm (±0.000056 in)

Weight

TP6 56 g (1.98 oz)
TP6A 76 g (2.68 oz)
As TP6

Stylus range

M3
As TP6

Stylus force range (adjustable)

0.11 N - 0.3 N
0.29 N - 0.59 N

Stylus force (set by Renishaw)

0.11 N - 0.13 N

Stylus overtravel (typical)
XY plane +Z axis

±22°
5.5 mm (0.22 in) @ 0.11 N
2 mm (0.08 in) @ 0.3 N

Maximum extension on PH10 series

200 mm (7.87 in)
As TP6

Mounting method

TP6 M8 thread
TP6A autojoint
As TP6

Suitable interface

PI 7-3, PI 200-3, UCC
As TP6
*Above data applies to test conditions as follows:
Stylus length 21 mm (0.83 in)
Stylus velocity 480 mm/min (1.57 ft/min)
Stylus force 0.11 N - 0.13 N
Installation and user's guides
User guide: Touch-trigger probe systems: TP1, TP2, TP6, TP6A, PH1, PH6 and PH6M

TP1(S) - A robust shank-mounted probe offering generous overtravel, ideally suited to manual CMMs. TP2 5-way - A compact probe allowing component penetration, ideally suited to CNC/DCC machines. TP6 - Complementing the TP2 series, but carrying longer and heavier styli, this probe is suited to general purpose applications. TP6A - This probe has all the functions of the TP6 probe and in addition the patented Renishaw autojoint that permits fast probe exchange without the need to requalify.
| | Part number |
| --- | --- |
| TP6 probe sensor kits | |
| TP6 probe | A-1039-0001 |
| TP6H (high force) probe | A-1039-6356 |
| TP6A (autojointed ) probe | A-1039-0028 |