Enclosed optical encoders
Find your enclosed optical encoder solution
FORTiS-S™ standard size enclosed linear encoders
Featuring Renishaw's proven absolute encoder technology within an exceptionally robust enclosed design, FORTiS encoders deliver high performance measurement in the harshest of environments, offering significant benefits over conventional systems.
Non-contact design – no mechanical wear and greater longevity
Reduced hysteresis – smoother feedback and improved dynamic performance
Breakthrough in readhead design – superior vibration resistance
Uniquely sealed – greater resistance to contamination by fluids and solid debris
Patented set-up LEDs – integral LED signal strength indicator for simple and quick installation and set-up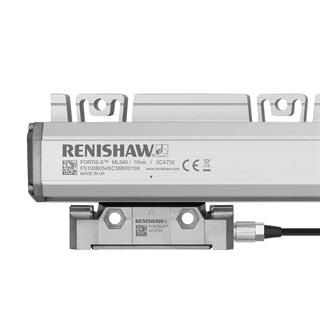 FORTiS-N™ narrow size enclosed linear encoders
Incorporating identical encoder technology and delivering the same benefits as the FORTiS-S models, FORTiS-N linear encoders have been designed with a more compact readhead in a narrower extrusion, making them ideally suited to applications in more confined spaces.
Non-contact design – no mechanical wear and greater longevity
Tuned mass damper technology delivers class leading vibration resistance
Suitable for smaller and lighter machine designs
Can be fastened directly to a machined surface or optional mounting spar
Patented set-up LED for fast and intuitive right-first-time installation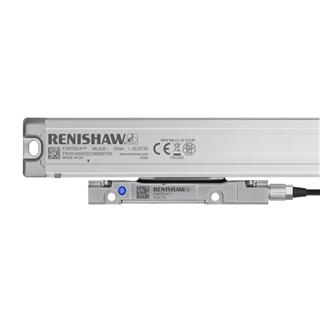 Contact us to discuss your requirements
What is a Renishaw enclosed optical encoder?
An enclosed optical encoder houses the encoder's electronics and optics within a sealed unit that is attached to a readhead body. Both the sealed optical unit and the encoder's scale are further protected within a sealed enclosure. This design provides high resistance to the ingress of liquids and solid debris contaminants.
The enclosed linear encoder features an extruded enclosure with longitudinally attached interlocking lip seals and sealed end caps. The readhead body is joined to a sealed optical unit by a blade, which travels through the lip seals along the length of the encoder.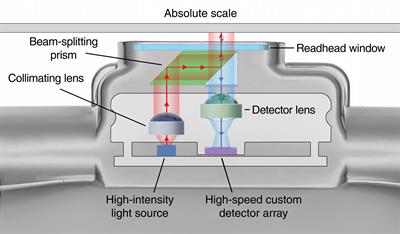 Linear axis movement causes the readhead and optics to traverse the encoder's absolute scale (which is fixed to the inside of the enclosure), without mechanical contact.

The encoder's scale features an absolute scale code of full-width contrasting lines, which is imaged via a lens onto a detector array inside the readhead. Linear position measurements, output in digital form, are compatible with a range of industry standard serial communications protocols.
Solving mechanical vibration problems
Machine vibration can affect conventional enclosed encoders in two ways: it causes a position measurement error when the vibration frequency is close to the encoder's resonant frequency, and severe vibration may cause the encoder to signal an alarm and emergency stop the machine.
Renishaw has designed the FORTIS encoder series with several unique features that increase its robustness against vibration, such as the use of tuned mass dampers. This innovative encoder design delivers a substantial improvement in positional stability, especially at the encoder's resonant frequency, and an enhanced ability to survive extreme conditions with high levels of vibration.
For more details, see our technical white paper that explores the vibration resistance of FORTiS encoders in detail.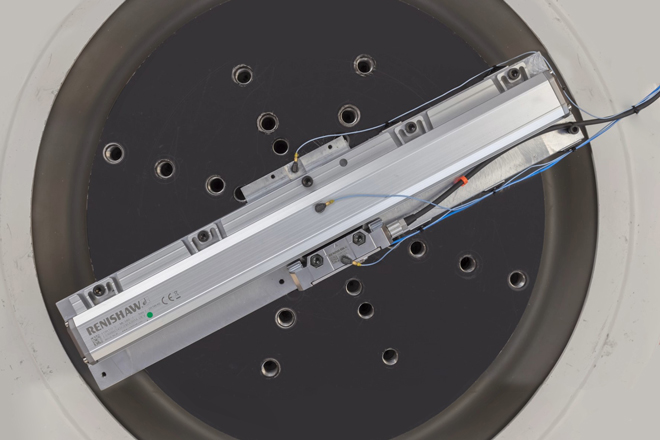 Easy installation that is 'right first time'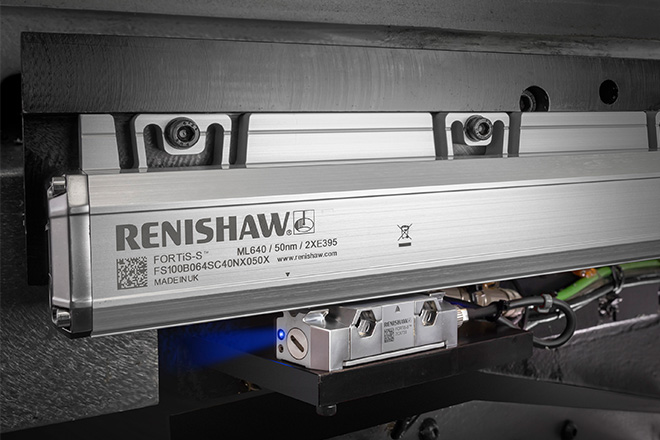 FORTIS linear encoders are designed to be installed by assembly operators, without the need for technician-level skills and equipment. The integral set-up LED provides an instant visual verification of the encoder installation, indicating if further adjustments are required and showing blue when the encoder installation is optimised.
For further assistance with installation, the optional Advanced Diagnostic Tool ADTa-100 can acquire and record comprehensive real-time encoder data, such as signal strength versus axis position. The ADTa-100 provides power to the encoder and can be connected to a Windows® tablet or a PC via a USB cable.