Navigation
Manually mounting / removing the stylus from stylus holders
Manually mounting / removing the stylus from stylus holders
The stylus holder must be removed from the probe before mounting/removing a stylus.

Always use the correct stylus tools to tighten and undo the threaded joints between the stylus and the stylus holder, thus avoiding excess torque (see diagram below).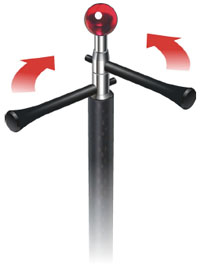 NOTE: If a spare stylus removal tool is needed order Renishaw part A-5000-7835 (the set comprises two S7 stylus tools in a plastic box).
CAUTION: Failure to use two tools as shown is likely to break the stylus holder.