MCU5-2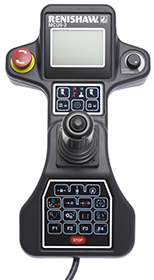 The manual control unit is a comprehensive CMM joystick controller designed for use with Renishaw's range of UCC controllers
It includes the functionality of both the Renishaw standard UCC joystick interface and Renishaw PHC10 hand control unit (HCU1).
The MCU5-2 is a development of the MCU5 joystick, with new buttons and new functionality.
The MCU5-2 has been developed for use with Renishaw's REVO system and PH20, providing the ability to move the CMM in the axis of the probe and stylus.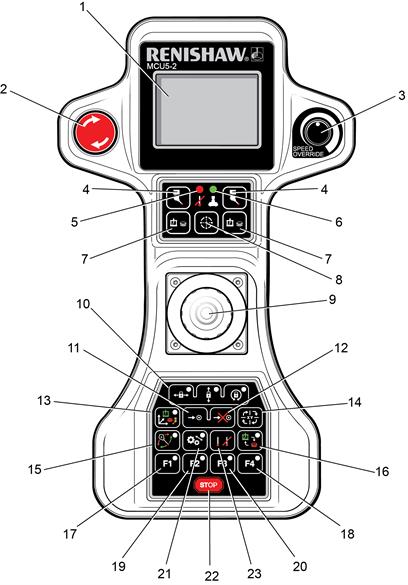 | Key | Description |
| --- | --- |
| 1 | LCD screen |
| 2 | Emergency stop switch |
| 3 | Speed override |
| 4 | Joystick enabled head mode (see '6' and '15') |
| 5 | Probe disabled LED |
| 6 | Joystick enabled LED |
| 7 | Joystick control of CMM or rotary table (see '6' and '16') |
| 8 | Bore teach |
| 9 | 3-axis joystick with push button |
| 10 | Joystick locks (three separate buttons) |
| 11 | Take point |
| 12 | Cancel point |
| 13 | Joystick co-ordinate system (axis select) |
| 14 | Joystick orientation |
| 15 | Switch between orbital mode and head mode |
| 16 | CMM movement or rotary table |
| 17 | F1 function |
| 18 | F4 function |
| 19 | F2 function |
| 20 | F3 function |
| 21 | Engage servos |
| 22 | Stop |
| 23 | Probe disabled (see '5') |
| | Part number |
| --- | --- |
| MCUlite-2 joystick kit | A-5331-0015 |
| MCU5-2 joystick kit | A-5734-0100 |
| MCU W-2 joystick kit (no batteries included) | A-5734-1200 |
| MCU W battery × 2 | A-5381-0095 |