MODUS Planning Suite
MODUS Planning Suite is designed for use in conjunction with MODUS 1.9 (or later) to simplify the creation of DMIS code for curve and surface measurement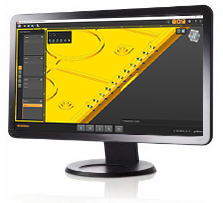 The MODUS Planning Suite is modular, meaning that only the functionality required needs to be purchased. There are three modular applications separately available:
MODUS Blade planner generates scans for blades
MODUS Patch planner generates sweep scans on surfaces
MODUS Curve planner generates curve scans on surfaces or edges
In generating the scan paths, the Planners use the capabilities of the Renishaw REVO
®
, a continuously-indexable 5-axis measuring head and probing system.
MODUS Planning Suite is used offline (not connected to measuring equipment).
Prerequisites
Windows 10 64-bit version 1909 or higher
UCCserver version 5.5 or higher
Microsoft Visual C++ 2015-2019 Redistributable (x64) 14.28 or higher
Hardware
1 TB disk space (minimum 500 GB).
Intel® Core i7-4790 processor running at least 3.7 GHz.
16 GB RAM (minimum 8 GB RAM).
Four USB ports (for printers, memory devices, dongle, etc.)
A network card is required for computer connection to UCC controllers. Further network cards may be required for connection to a company network.
Minimum 4 GB RAM graphics card. We strongly urge the use of an add-in (not an on-board) NVidia Quadro graphics card. It is good practice to obtain the latest versions of the drivers for your graphics card display adapter. Contact Renishaw if you need further information on graphics card support.
Monitor:

Minimum resolution 1600 x 1200
OR
Dual monitors are a recommended option for CAD-based programming.
Supported operating systems
MODUS Planning Suite will run under the following operating system:
Windows 10 64-bit version 1703 or higher (for businesses, including Professional and Enterprise)
CAUTION: Windows XP, Windows 7, Windows 10 32-bit, Windows 8 and Windows 8.1 are not supported.