PH10M-iQ PLUS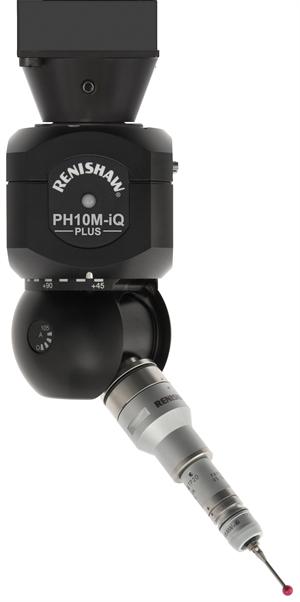 Less time calibrating, more time measuring!
The inferred qualification allows PH10M‑iQ PLUS to access multiple positions without having to recalibrate for each one.
PH10M-iQ PLUS is supplied with a calibration file that is created during manufacture
This calibration file is then applied by the probe routine on the CMM *
Following a quick initial calibration procedure, PH10M-iQ PLUS allows the user to operate the head / probe combination in every orientation possible without recalibration
PH10M-iQ PLUS increases throughput by reducing calibration overhead
Scanning probes can only be used in traditional PH10 mode with PH10M-iQ PLUS; touch-trigger probes can use the inferred qualification method
* Must be supported by application software
Length

117 mm (4.6 in)

Width

60 mm (2.44 in)

Weight

645 g (22.07 oz)

Mounting

Shank

Probe mount

Renishaw autojoint (multiwire)
M8 threaded probes can be used with a PAA probe adaptor

Controller

PHC10-3 PLUS

Angular movement

A-axis: 0° to 105° in 7.5 steps
B-axis: 0° to 180° in 7.5 steps

Total number of positions

720 positions
Installation and user's guides
Installation & user's guide: PH10M-iQ PLUS

PH10M-iQ PLUS is a derivitive of the PH10 PLUS range of heads. PH10M-iQ PLUS has inferred qualification meaning that after initial calibration is performed, all other positions of the head are inferred which eliminates the need to recalibrate each required head position.
Presentations
Presentation: PH10M-iQ PLUS

Presentation introducing PH10M-iQ PLUS, a variant of PH10M with the added functionality of inferred qualification.
---
Part number

PH10M PLUS motorised indexing probe head kits

For use with multiwired probes and extension bars

PH10M PLUS probe head and shank kit (see below for complete part no.)

A-5863-11**

PH10M PLUS probe head, AM1 and shank kit (see below for complete part no.)


A-5863-19**

PH10M PLUS probe head only


A-5863-4000

PH10M PLUS probe head and AM1 kit


A-5863-1060

PH10MQ PLUS quill mounted, motorised indexing probe head kits

For use with multiwired probes and extension bars

PH10MQ PLUS probe head kit

A-5863-6000

PH10T PLUS motorised indexing probe head kits

For use with M8 threaded touch-trigger probes and extension bars

PH10T PLUS probe head and shank kit (see below for complete part no.)


A-5863-25**

PH10T PLUS probe head only


A-5863-5000

PH10M-iQ PLUS motorised indexing probe head kits with inferred qualification

For use with multiwired probes and extension bars

PH10M-iQ PLUS probe head kit


A-5863-7000

PH10 PLUS head controllers and hand control units

PHC10-3 PLUS RS232 head controller (includes 24 V PSU)


A-5863-0100

PHC10-3 PLUS head controller with integral PI 200-3 interface (includes 24 V PSU, 4 feet, documentation CD and USB driver)


A-5863-0200

PHC10-3 PLUS head controller with integral PI 200-3 interface, additional PICS output port and PL25(T) PICS cable (includes 4 feet, documentation CD and USB driver)


A-5863-0300

HCU2 hand control unit


A-5882-0010

PH10 PLUS accessories

AM1 adjustment module for PH10M PLUS, PH10T PLUS, PH6M and MIH


A-1026-0320

AM2 adjustment module for PH10MQ PLUS


A-1036-0080

PHA3 - PH10MQ PLUS to KM1 quick change adaptor


A-2238-0751

24 V PSU for PHC10-3 PLUS, PI 200-3 and PI 7-3


P-EA02-0042

1U bracket kit


A-1018-0189

1/3 x 1U bracket


A-1018-0179

PHC10-2 bracket 1U to 2U


A-1018-0173
---