Navigation
Plug and play installation
'Plug and play' installation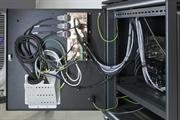 Renishaw has built up a comprehensive knowledge base of CMM installations, so it can provide a 'plug and play' solution using its UCC universal CMM controller for most models of CMM.
A range of interface panels for common CMMs enables the existing 'umbilical' cable to be plugged straight into the UCC controller cabinet, saving many hours of on-site rewiring.
Software tools

Renishaw has developed its own sequence based software, UCCassist-2, that controls the installation to ensure that it is completed in a consistent manner in accordance with our accredited process.
Error map
Generation of the error map is a key part of the retrofit installation and Renishaw have developed software that is capable of generating an error map for all CMM types including Bridge, HAM and Dual scale. The software also allows the self verification of the error map and this error map can also be updated using the information from the ISO10360-2 test. This flexiblility allows us to adapt the mapping strategy for each machine.

To further enhance the error map we have developed a new data collection system that allows you to collect data and generate an error map in less than one day. Using the current process of optics and XL80 it can take up to three days to do this depending upon machine size.