Product description
The MH8 has 2 axes. The probe connector is carried on the A-axis which can rotate the probe through 90° in the Z plane. The B-axis can rotate the probe through ±180° in the X-Y plane.
A lever actuated mechanism locks both axes in the desired position for gauging the workpiece. The axes are unlocked to allow free rotation to another position. The locked positions are set at angular increments of 15° in each axis, providing a total of 168 positions.
When the head orientation is locked, the probe is kinematically constrained in a highly repeatable spatial position. This means that after initial qualification of the stylus tip, in the positions required for gauging the workpiece, the probe may be reorientated to any of the qualified positions without the need for requalification.
A red LED is provided on the front of the head to indicate the probe's status. The LED may be driven by the CMM controller or by a Renishaw probe interface. It is convention for the LED to be ON to indicate a seated (armed) probe and to be OFF to indicate a triggered probe.
Electrical connection is via a 5 pin DIN connector.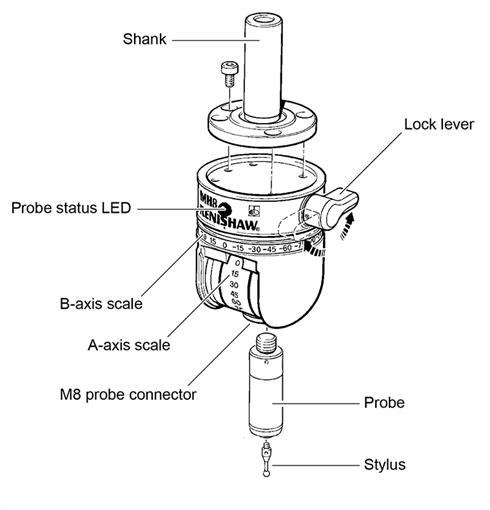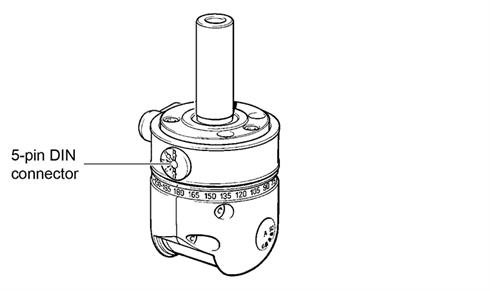 Part number summary

| | |
| --- | --- |
| Part number | Description |
| A-1332-0013 | MH8 probe head |
| A-1332-0002 | MH8 probe head + TK4 probe tools (no shank) |
| A-1332-0003 | MH8 + TK4 + MS1 shank |
| A-1332-0004 | MH8 + TK4 + MS2 shank |
| A-1332-0005 | MH8 + TK4 + MS4 shank |
| A-1332-0006 | MH8 + TK4 + MS5 shank |
| A-1332-0007 | MH8 + TK4 + MS7 shank |
| A-1332-0008 | MH8 + TK4 + MS9 shank |
| A-1332-0009 | MH8 + TK4 + MS10 shank |
| A-1332-0010 | MH8 + TK4 + MS13 shank |
| A-1332-0011 | MH8 + TK4 + MS15 shank |
| A-1332-0014 | MH8 + TK4 + MS17 shank |
| A-1332-0012 | MH8 + TK4 + D shank |
| A-1042-1486 | S1 'C' spanner |
| A-1047-3932 | S9 double ended 'C' spanner |
| M-5000-3540 | S7 stylus tightening tool |
| P-TL03-0150 | Hexagon key, 1.5 mm AF (TP2 / TP6 adjustment) |