CMM installations
Give your old CMMs a new lease of life. Join the measurement revolution!
Why retrofit?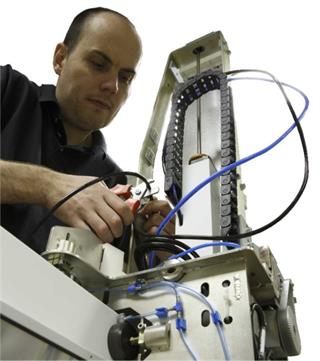 Most CMM structures are not subject to high levels of wear and so remain serviceable for many years. BUT, software, control systems and sensors can become outdated as new, faster and more capable ones are introduced.
Upgrading your CMM can give it a new lease of life…
Increased measurement capability
Greater software functionality and usability
Faster throughput
Automation and lower operating costs
Supported, open CMM controller
Future-proof investment
Low risk of change
A complete solution direct from Renishaw
Users of all brands of CMM now have the opportunity to transform their measurement performance with an upgrade to Renishaw's innovative metrology systems.
Renishaw provides a comprehensive CMM retrofit solution, based around the proven UCC2 universal CMM controller and its MODUS CMM metrology software. Combined with an unrivalled range of touch-trigger, scanning and 5-axis sensors, as well as global support and UKAS accredited machine calibration, Renishaw has assembled all the elements to deliver a professional, state-of-the-art CMM retrofit solution.
A solution for all brands of CMM
Although Renishaw's unique REVO 5-axis measurement system has been available from Mitutoyo, Wenzel, Dukin and Metris for some time, until now users of other CMMs have been unable to take advantage of this revolutionary technology.
The operational benefits of increased productivity, reduced inspection lead times and greater automation of measurement tasks are now available to all CMM users.
A Renishaw retrofit gives users of all brands of CMM access to state-of-the-art technology, with the security of global service and support direct from the manufacturer "We can now offer customers of all brands of CMM, including Hexagon and Zeiss, a complete solution that features leading-edge technology in every aspect, backed up by the security of service and support direct from Renishaw."
The award-winning REVO 5-axis measurement system provides unprecedented speed, accuracy and flexibility. Whilst the PH20 5-axis measurement system provides a low cost entry system for those only requiring touch-trigger measurement capability.