HCU1 introduction
The HCU1 is a hand control unit for use with Renishaw motorised probe head systems.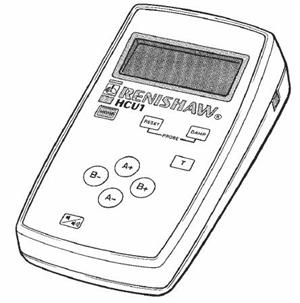 The HCU1 enables the probe head to be used in a manual mode and is invaluable for component set-up, operator-controlled inspection and teach cycle programming.
It has a two-speed action, with a choice of jog or sweep moves.
The LCD matrix display with contrast adjustment provides head angle and system status information as well as error analysis.
A transmit key is provided for teach cycle programming.
The unit comes complete with probe DAMPing and probe reset functions (see Probe Function page).
The audible key press confirmation facility can be selected.
The unit is supplied with a 5 m long cable, which can be extended to up to 25 m if required.