Installation procedure
WARNING: Ensure the PI 7-3 is disconnected from the mains supply during installation.
WARNING: Do not exceed the operation ambient of 50 °C around the unit. Do not install near sources of heat. Forced cooling may be required in final installation.
Rack mounting
The PI 7-3 may be mounted in a 19 inch equipment rack or may be free standing.
To mount the PI 7-3 alone requires 2 × 1/3 blanking panel kits (A-1018-0179).


If the PI 7-3 is to be placed next to a PHC10-2 use panel kit A-1018-0173.


System interconnection
The interconnections for the TP7 system on a PH10M motorised probe head are shown in the following illustrations.
NOTE: The first illustration refers to the external PI 7-3 unit and the second showns information regarding the integral card version of the product. The table gives a list of alternative standard Renishaw cable lengths and part numbers.
Refer to the Renishaw PH10M system installation guide (H-1000-5071) for further information.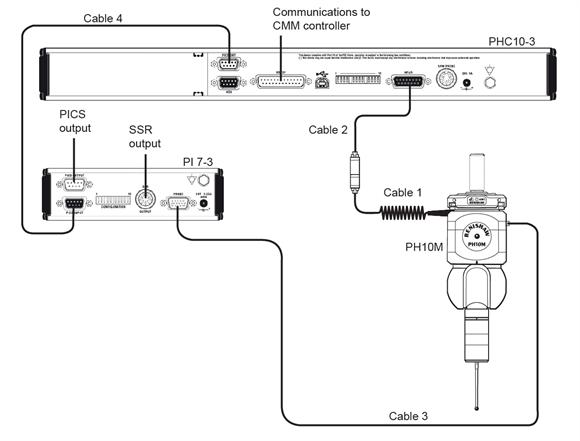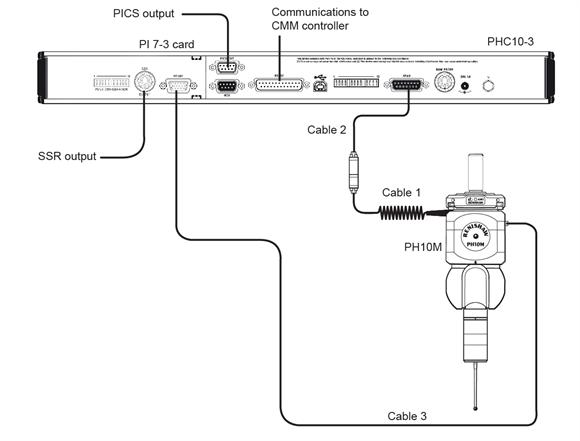 Cable no.

PL no.

Length (m)

Part number

Notes
1
PL5
PL6
PL12
PL13
0.4 to 0.8
0.8 to 1.6
0.1
0.1 to 0.2
A-1016-7672
A-1016-7673
A-1016-7674
A-1016-7675
Coiled
Coiled
Plain
Coiled
2
PLM6
PLM7
PLM8
PLM9
6
4
6
4
A-1016-7564
A-1016-7563
A-1016-7677
A-1016-7678
Unterminated
Unterminated
3
PL38
PL42
PL56
PL44
PL46
PL45
25
15
12
8
3.7
1.8
A-1016-7625
A-1016-7624
A-1016-7617
A-1016-7627
A-1016-7628
A-1016-7629
Unterminated
Unterminated
Unterminated
Unterminated
Unterminated
Unterminated
4

PL25

0.3
A-1016-0120
NOTE: Cables marked 'unterminated' are supplied with one end prepared but unterminated. The connector parts are supplied for fitting after routing of the cable in the installation.