The TP7M probe types may be recognised by the differences in appearance shown below.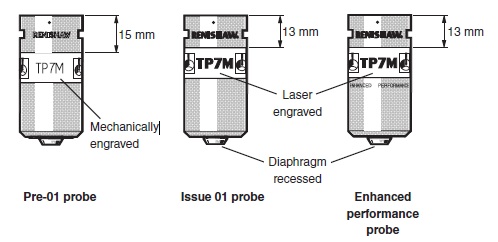 Switch 5
With switch 5 DOWN, the SYNC, HALT and SSR outputs will go to the triggered state when the CMM controller or other Renishaw equipment asserts the PICS STOP line. Setting switch 5 UP disables the response.
Switch 6
The HALT output at the PICS connector is active low with switch 6 DOWN but may be inverted by selecting switch 6 UP.  
Switch 7
Set switch 7 to the UP position for normal operation with the TP7M or kinematic probes (TP2, TP20 or TP6/TP6A). For fully integrated operation of the TP7M with the TP200 probe on the same installation, set switch 7 to the DOWN position to allow the HALT signals from the PI 200 interface to be automatically routed to the CMM controller when the probe is changed.
Switch 8
Set switch 8 DOWN for normal operation with the automatic reset disabled. Set switch 8 UP to select automatic reseat of the probe 2 seconds after triggering. This facility is included for compatibility with previous versions of the PI 7.
Switch 9
Set switch 9 DOWN for normal operation with the TP7M at its highest sensitivity (level 1) and lowest error.
Under certain conditions, vibration may cause false 'air' triggers during gauging and it may be necessary to reduce the probe's sensitivity. False triggers may occur when large or heavy stylus arrangements are used, or where there is floor transmission from nearby machinery or vehicles. Set switch 9 UP to select level 2. This will reduce sensitivity to vibration but with a small loss of measuring accuracy.
Switch 10
Set switch 10 UP to operate as the custom product A-1073-0544 which has a modified debounce time.
NOTE: All configuration switches are hardware controlled and do not require the PI 7-3 to be switched off and on again to make the selection active.