MCU installation
Part numbers
There are several MCU joysticks available:
A-5331-0015 - MCUlite-2 kit
A-5734-0100 - MCU5-2 kit
A-5734-1200 - MCU W-2 kit (does not include batteries *)
Grey button version
A-6078-0258 - MCUlite-2
A-5734-0900 - MCU5-2
A-5734-1400 - MCU W-2
A-5331-0020 - HT20
A-5735-0400 - HT500
A-5734-1300 - HT500RC
* NOTE: The MCU W and MCU W-2 kits do not include batteries. When placing an order, please remember to include the MCU W battery kit (Renishaw part number A-5381-0095).
Each of these kits are provided with a 5 m flexible joystick cable. Replacement cables are available from your machine supplier or directly from Renishaw.
Connecting the MCU to the UCC system
The MCU joystick kits include a 5 m flexible cable provided as standard. The cable is fitted from 9-pin D connector on the rear of MCU to a 9-pin D connector on the rear of the SPA3-2.
Connecting to the SPA3-2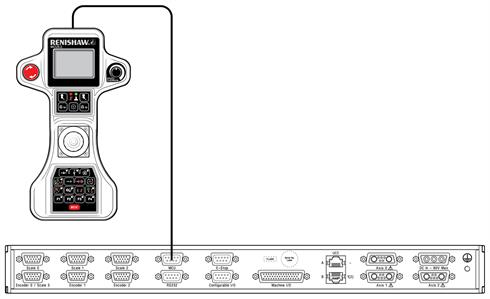 The emergency stop button on the MCU5-2 or MCU W-2 has a dedicated circuit that is fed directly into the rear of the SPA3-2 servo power amplifier or UCC controller.