MODUS
MODUS™ - powerful metrology software
Full support for I++ DME compliant metrology controllers, including Renishaw's UCC range of universal CMM controllers
Full compatibility with REVO
CAD-driven offline programming, with support for neutral formats of IGES, STEP, Parasolid® and VDA-FS
High quality integration with the CATIA® (v5 and v4), Siemens® NX™ (previously Unigraphics®), Pro/E® and Solidworks® CAD / CAM solutions
Full motion simulation including 5-axis moves
Native DMIS support
Certified mathematical algorithms
Powerful text and graphical reporting
Flexible output of results data including certified Q-DAS
MODUS software provides a powerful platform for 5-axis measurement. A configurable user interface allows native DMIS programs to be developed offline, drawing geometry, embedded dimensions and tolerance data from CAD, with full simulation. The software includes certified algorithms for feature measurement, feature construction and part alignment.
Programs can be created offline directly from CAD with on-screen probe path verification. The CMM environment, the fixture and the location of the part on the machine can all be defined, enabling full simulation of 5-axis measurement programs. This minimises CMM down-time as programs arrive at the machine ready to run, with little or no prove-out time required.
Standards foster interoperability
Building on a foundation of industry standards such as DMIS, I++ DME, DML and Microsoft® SQL Server, MODUS maximises compatibility with your existing programs and reports. Flexible reporting options include text-based and graphical reports, and results data that can be exported in a wide range of file formats, including certified Q-DAS for comprehensive SPC analysis.
The reporting capability of MODUS is extensive, including traditional CMM text reports with comprehensive user-defined formatting. Graphical reporting enables results to be displayed against the CAD model, including whisker charts or 3D form plotting for many features.
Below is a selection of screen shots taken from MODUS showing its many varied applications.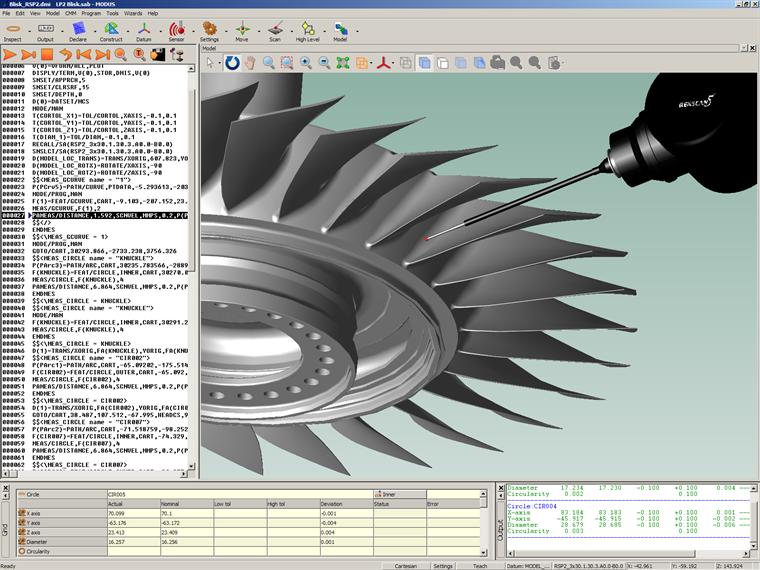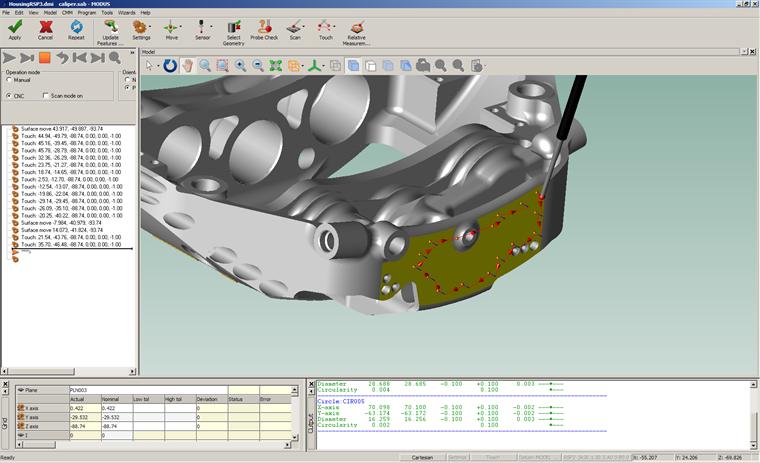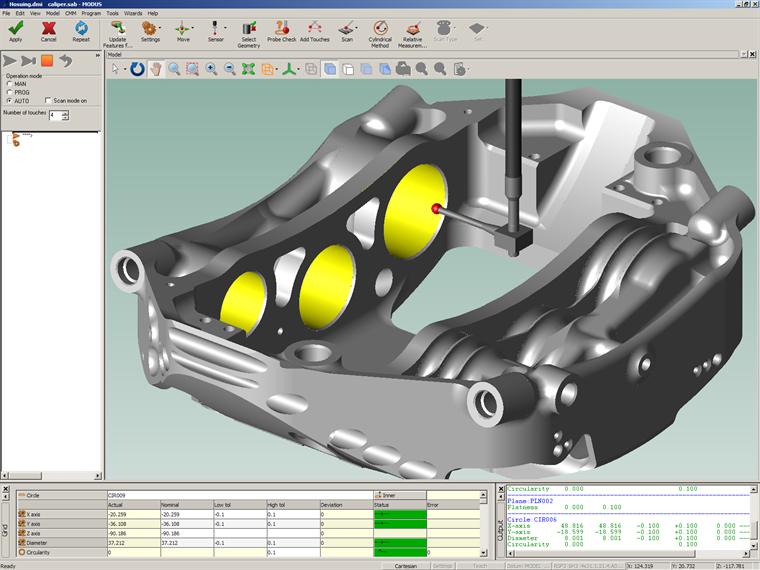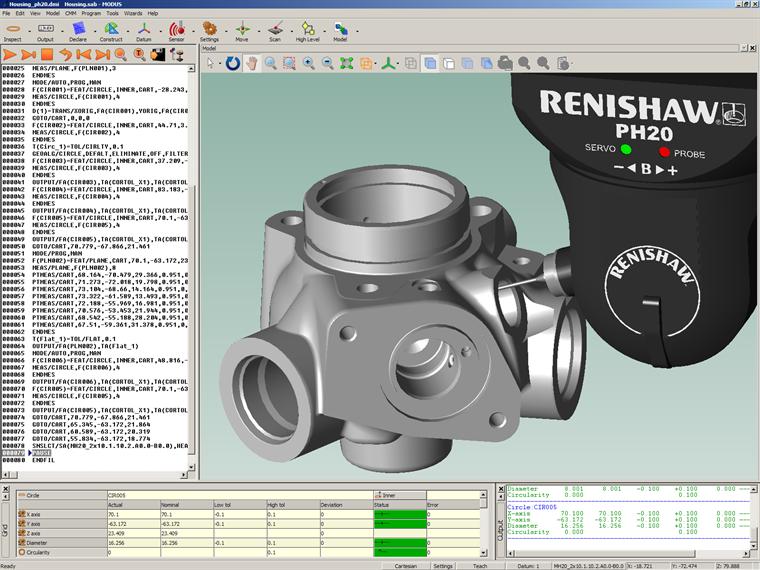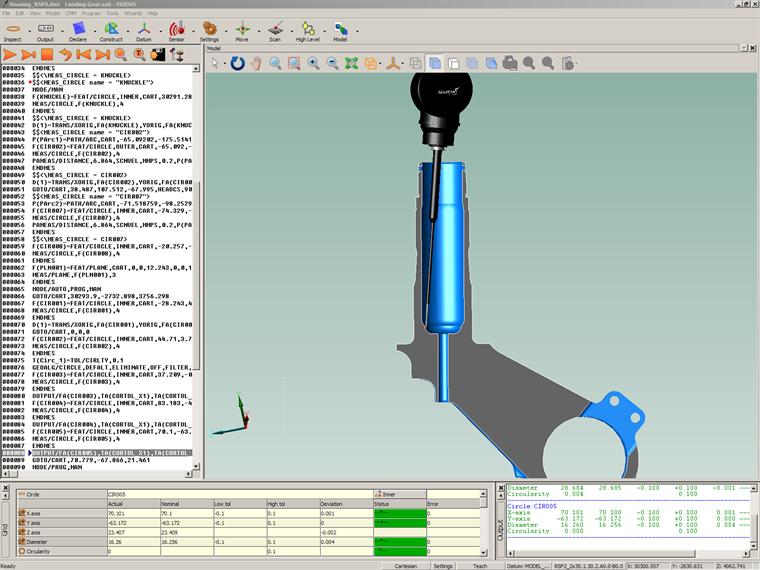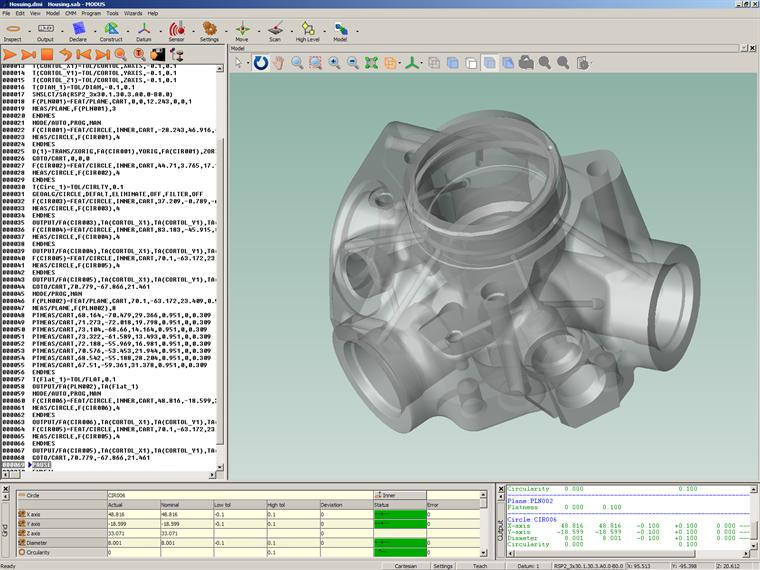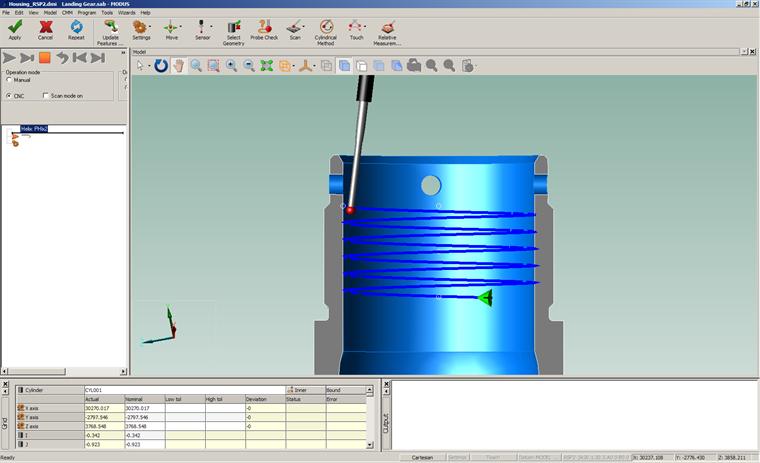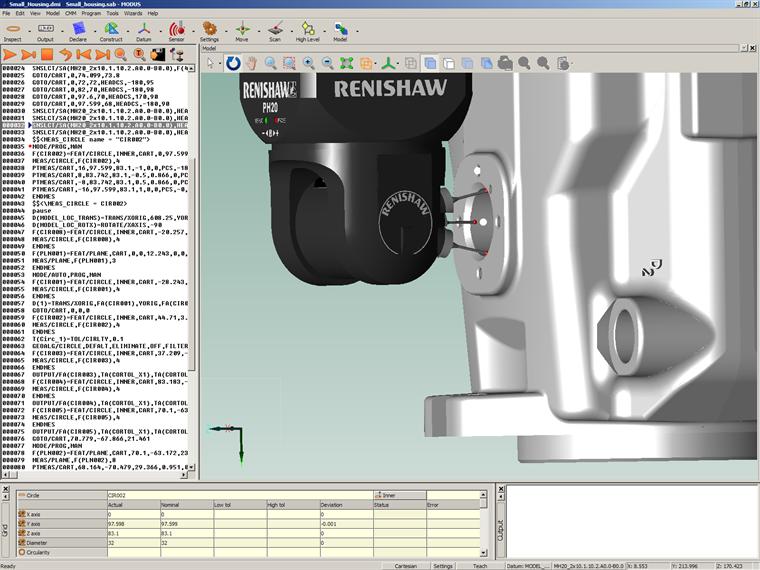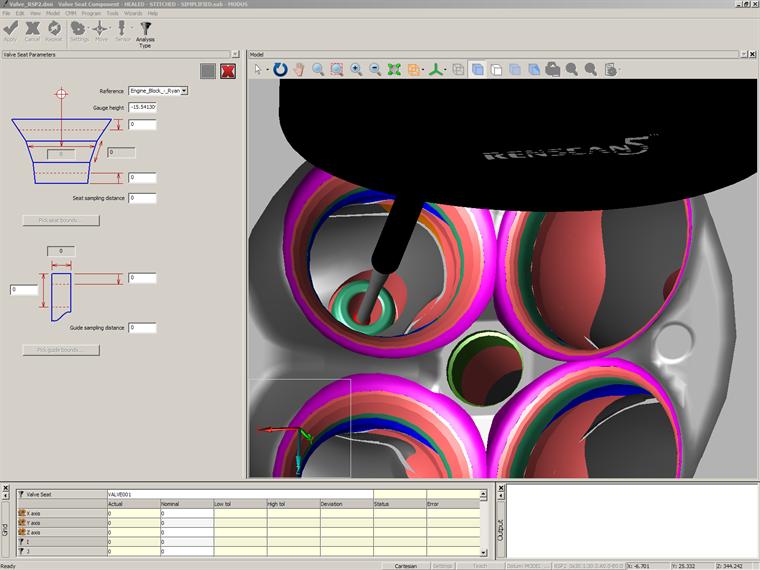 PC requirements
500 GB disk space (SSD drives and / or 1 TB recommended for high end applications)
Intel (R) Core i7-6700 processor
8 GB RAM (16 GB recommended for large CAD models)
4 USB ports (for printers, memory devices, DK2 dongle, etc.)
Network card required for PC connection to UCC controllers (further network cards may be required for connection to a company network)
Minimum 4 GB RAM NVidia Quadro M series graphics card
Dual monitors are recommended with 1600 × 1200 or HD 1920 × 1080 resolution
Supported operating systems
MODUS 1.9 will run under the following operating systems:

Windows 10 64-bit (for businesses, including Professional and Enterprise)
Windows 7 64-bit Professional, Enterprise, Ultimate (Service Pack 1 minimum)

To prevent possible data corruption occurring with newer hard drive types, it is recommended that you install the Windows hotfix available from this link:
Windows XP, Windows 7 32-bit, Windows 8, Windows 8.1 and Windows 10 Pro 32-bit are not supported.
UCCsuite
CNC (DCC) systems: MODUS 1.9 must be used with UCCsuite version 5.0.4 or above
---
| | |
| --- | --- |
| | Part number |
| MODUS online | |
| MODUS - touch-trigger (IGES input, STEP input, collision detection, MODUS organiser) | A-5639-0001 |
| MODUS - 3-axis scanning (IGES input, STEP input, collision detection, MODUS organiser) | A-5639-0003 |
| MODUS - 5-axis scanning (IGES input, STEP input, collision detection, MODUS organiser) | A-5639-0005 |
| MODUS offline | |
| MODUS - touch-trigger offline | A-5639-0101 |
| MODUS - 3-axis scanning offline | A-5639-0103 |
| MODUS - 5-axis scanning offline | A-5639-0105 |
| MODUS options | |
| MODUS airfoil | M-5639-0008 |
| MODUS point cloud sectioning (MPCS) | M-5639-0225 |
| MODUS surface texture | M-5639-0226 |
| MODUS surface texture advanced | M-5639-0227 |
| MODUS gear | M-5639-0215 |
| MODUS spline | M-5639-0216 |
| MeasureMax client | M-5639-3500 |
| MODUS upgrades | |
| MODUS touch-trigger to 3-axis scanning upgrade | A-5639-5001 |
| MODUS touch-trigger to 5-axis scanning upgrade | A-5639-5002 |
| MODUS 3-axis scanning to 5-axis scanning upgrade | A-5639-5003 |
| MODUS CAD options | |
| VDA-FS import / export | M-5639-0010 |
| CATIA V4 import | M-5639-0020 |
| CATIA V4 import / export | M-5639-0021 |
| CATIA V5 import | M-5639-0022 |
| CATIA V5 import / export | M-5639-0023 |
| CATIA V5 manufacturing option (includes CATIA V5 import) | M-5639-0024 |
| Unigraphics import | M-5639-0030 |
| Unigraphics manufacturing option (includes Unigraphics import) | M-5639-0031 |
| Parasolid import / export | M-5639-0032 |
| Pro/E import | M-5639-0040 |
| Pro/E manufacturing option (includes Pro/E import) | M-5639-0041 |
| SolidWorks import | M-5639-0050 |
| MODUS educational | |
| Education bundle 1 (5 seats, maintenance contract required) | A-5639-0251 |
| Education bundle 2 (10 seats, maintenance contract required) | A-5639-0252 |
| Education bundle 3 (20 seats, maintenance contract required) | A-5639-0253 |
| MODUS maintenance | |
| MODUS - touch-trigger | M-5639-0501 |
| MODUS - 3-axis scanning | M-5639-0503 |
| MODUS - 5-axis scanning | M-5639-0505 |
| MODUS - touch-trigger offline | M-5639-0601 |
| MODUS - 3-axis scanning offline | M-5639-0603 |
| MODUS - 5-axis scanning offline | M-5639-0605 |
| MODUS airfoil | M-5639-0508 |
| MODUS point cloud sectioning (MPCS) | M-5639-0725 |
| MODUS surface texture | M-5639-0726 |
| MODUS surface texture advanced | M-5639-0727 |
| MODUS gear | M-5639-0715 |
| MODUS spline | M-5639-0716 |
| VDA-FS import / export | M-5639-0510 |
| CATIA V4 import | M-5639-0520 |
| CATIA V4 import / export | M-5639-0521 |
| CATIA V5 import | M-5639-0522 |
| CATIA V5 import / export | M-5639-0523 |
| CATIA V5 manufacturing option (includes CATIA V5 import) | M-5639-0524 |
| Unigraphics import | M-5639-0530 |
| Pro/E manufacturing option (includes Pro/E import) | M-5639-0531 |
| Parasolid import / export | M-5639-0532 |
| Pro/E import | M-5639-0540 |
| Pro/E manufacturing option (includes Pro/E import) | M-5639-0541 |
| SolidWorks import | M-5639-0550 |
| Educational bundle 1 annual maintenance | M-5639-0751 |
| Educational bundle 2 annual maintenance | M-5639-0752 |
| Educational bundle 3 annual maintenance | M-5639-0753 |
| APEXBlade | |
| APEXBlade (stand-alone licence) | A-5639-0220 |
| APEXBlade (add-on to existing MODUS licence) | M-5639-0220 |
| APEXBlade maintenance | M-5639-0720 |
| SurfitBlade | |
| SurfitBlade (stand-alone licence) | A-5639-0221 |
| SurfitBlade (add-on to existing MODUS licence) | M-5639-0221 |
| SurfitBlade maintenance | M-5639-0721 |
---