SP80 and SP80H
SP80 and SP80H quill-mounted scanning probes
Ultra-high accuracy measurement, provided by digital scale and readheads - system resolution of 0.02 µm (79 µin)
Long stylus carrying capability for access to deep features -
up to 1000 mm (39.4 in) and 500 g (17.64 oz) mass on SP80
Unbalanced stylus configurations do not require
counterbalancing
SP80H variant mounts to horizontal quill - styli up to 500 mm
(7.87 in) long and 500 g (17.64 oz) mass
Isolated optical metrology for direct accurate measurement of stylus deflection
Low inertia mechanism for excellent dynamic response
Passive scanning probe with no motors, giving improved thermal stability and reliability
Bump-stop crash protection in the Z axis, together with a detachable stylus holder for XY crash protection
Adaptor plates enable rapid interchange between SP80 and PH10MQ PLUS motorised head
Kinematic stylus changing for repeatable relocation of the optimum stylus configuration - removes the need for requalification
Stylus holders
SH80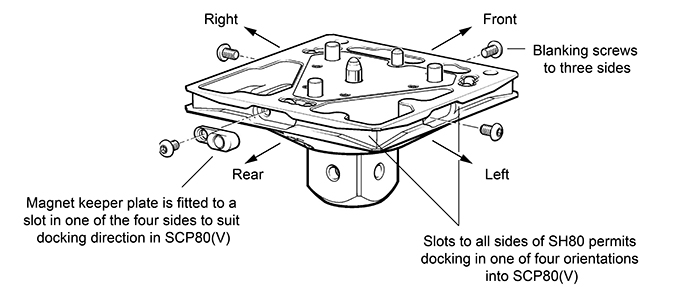 A detachable stylus holder located onto the probe body using a repeatable magnetic kinematic joint
Provides rapid and automatic interchange between stylus configurations thus enabling optimisation of measuring solutions to suit the application whilst maintaining system accuracy
Incorporates a 5-way cube for attachment of M5 styli
The stylus mount cube may be rotated by loosening a grub screw to enable correct rotational positioning of the stylus arrangement
Automatically removed and replaced on the probe body by using a SCP80 / V mounted on an MRS or suitable extrusion
Can dock into an SCP80 port aligned with any of the four sides of the SP80 probe meaning that the SCP80 / V can be positioned to the rear, front, left or right of the CMM, or any combination of these
SH80K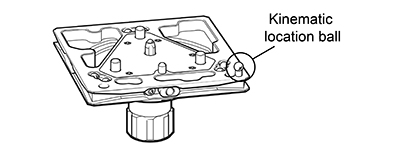 Supplied as a standard item with each probe
A stylus holder with a kinematic location ball that allows the SP80 and SP80H to be powered off / on without needing to rehome the probe (needs the SH80K to be fitted before the power is switched off)
The stylus ball locates on a special kinematic screw that is fitted to the probe body
It is possible to use SH80K with earlier versions of SP80 as the kinematic screw can be retrofitted to the probe body
SP80 stylus change racks and accessories
SCP80 stylus change port
Docking port for SH80 stylus holder - mounted on modular rack system (MRS)
The SCP80 has a spring loaded mechanism that is designed to ease the stylus holders away from the probe body
The SP80 pull-off force is less than 20 N
Modular rack system (MRS2)
A versatile probe and stylus changing solution for a wide range of Renishaw sensors
Available in a variety of leg and rail lengths to allow it to be configured to various applications
Additional rails can be added to MRS2 to create multi-tier racks in instances where CMM working volume is at a premium or there is a need to carry large numbers of probes and styli
SCP80V stylus change port
Docking port for SH80 stylus holder for use in the vertical orientation
Designed to be mounted onto an extrusion based rack provided by the CMM builder
Same spring loaded mechanism to ease the SH80 away from the probe body, but due to the different mounting orientation a higher spring force is required
The higher spring force means that SCP80V can also be fitted to the MRS system alongside the SCP80 to hold SH80s that have styli configurations requiring the stylus to point through the back of the rack port
Stylus holder removal tool
A removal tool for manually removing the SH80K and SH80 from either the SP80 and SP80H


SP80 interfaces
CC6 counter card
A PCI counter card which accepts RS422 scale output (typically from the Renishaw IU80 interpolator unit) and determines the {x,y,z} deflection of the SP80 probe
Data is then integrated with the machine position to determine the surface location
Suitable for PCs equipped with full size PCI expansion slots


IU80 interpolator unit
A boxed interface unit designed to condition the SP80 probe outputs into the industry-standard EIA RS422 quadrature scale output format
Signals can then be readily accepted by CMM controllers
Can be used with the Renishaw CC6 counter card, or with counter circuitry designed by the machine builder
OEM design
A counter card and interpolator unit designed by the machine builder
SP80 quill connection options (suitable for both SP80 and SP80H)
KM80 quill mount plate
A simple, repeatable attachment between the SP80 scanning probe and the CMM quill
Attached to the quill using four bolts and is designed to suit M4 or M3 quill attachment screws


KM6080 quill mount adaptor plate
Enables the SP80 to be adapted to suit CMMs with 60 mm square quills
Not available as a standard product and must be quoted through Renishaw's Custom Design Service
SM80 shank mount
As KM80 but with a shank mount to the CMM (non-preferred method)
SM80 shank mounts are not available as standard products and must be quoted through Renishaw's Custom Design Service
PHA3 and PHA80
Adaptor plates for rapid interchange between PH10MQ PLUS (using PHA3) and SP80 (using PHA80) on the same CMM
Cables
Interconnection cables integrating the SP80 and SP80H scanning probe to a CMM
| PL number | Length | Connector 1 | Connector 2 | Cable type |
| --- | --- | --- | --- | --- |
| PL157 | 0.23 m | In-line LEMO plug | 26-pin high-density 'D' type socket | Straight |
| PL156 | 0.6 m | Not terminated | 26-pin high-density 'D' type socket | Straight |
| PL158 | 1 m | 26-pin high density 'D' type plug | 26-pin high-density 'D' type plug | Straight |
SP80 probe kit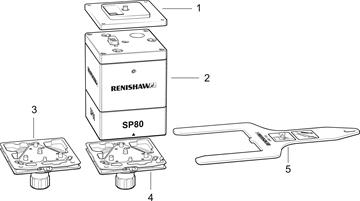 | Key | Description |
| --- | --- |
| 1 | KM80 kinematic quill mount |
| 2 | SP80 probe body |
| 3 | SH80 stylus holder |
| 4 | SH80K stylus holder |
| 5 | Stylus holder removal tool |
Isolated optical metrology system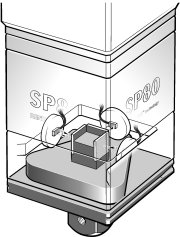 Readheads for each axis are fitted to the body of the probe
Light is reflected from the moving cube onto the readhead
System measures deflection of the whole mechanism
Detects sources of variable error such as thermal and dynamic effects
Any inter-axis error caused by arc motion of parallel acting springs is directly measured by the sensor system
System has no moving wire connections
† Probes with displacement sensors mounted to stacked axes suffer from latency under changing inertial loads and cannot detect thermal growth in their mechanisms.
Dimensions are shown in mm
| | |
| --- | --- |
| SP80 with SH80 | |
| SP80 with SH80K | |
| KM80 | |
| SCP80 / SCP80V | |
| IU80 | |
SP80 probe system
The probe orientation shown below is the orientation used in the SP80 probe product specification.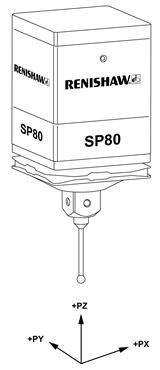 ---
Probe attributes

Ultra-high accuracy scanning probe with three axis measurement (±PX, ±PY, ±PZ)*

Orientation

Vertical

Size

80 mm × 80 mm (3.15 in × 3.15 in) body, 150 mm (5.91 in) long including SH80 stylus holder
Quill mounting


KM80 - 80 mm × 80 mm quill to kinematic SP80 quill mount (standard)

KM6080 - 60 mm × 60 mm quill to 80 mm × 80 mm kinematic SP80 probe mount (option)

SM80 - shank mount and other custom made adaptor plates available - contact your Renishaw supplier for details


Measurement range

3-axis measurement: ±2.5 mm (±0.12 in) (PX, PY, PZ)*

Overtravel range


PX* and PY* protected by breakout of the kinematic joint to the SH80

PZ* has a mechanical 'bump-stop'

Resolution of digital scales

0.02 μm

Measurement capability test to ISO10360-2**

Typically <1.0 μm with a 50 mm stylus

Scanning capability test to ISO10360-4**


Typically <1.5 μm MPETHN with a 50 mm stylus

Time for typical scan = 74 s


Return to zero

Approximately 1% of working deflection
Spring rate

Approximately 1.8 N/mm (X, Y, Z)

Stylus carrying capability


Renishaw M5 stylus range

Maximum 500 g mass (unbalanced)

Maximum 1000 mm projection #


Mass


SP80 probe body only: 860 g

SH80 stylus holder: 185 g

KM80 quill mount: 110 g


Pull off force of SH80

<20 N when using SCP80 - otherwise approximately 80 N

Probe power supply

+9 V to +18 V @ 300 mA maximum dc

System power supply (including IU80)

+5 V ±0.25 V @ 1 A maximum dc

SP80 probe outputs (PX, PY, PZ)*

1.5 V ±0.25 V p-p. analogue quadrature signal (nominal 2.5 V zero crossing reference)

Interfacing options


Using a Renishaw PCI counter card (CC6) and the Renishaw interpolator unit (IU80)
Other interface card designed by the OEM and used in conjunction with an IU80
Using a counter card and interpolator units designed by the OEM


Change rack system


SCP80 units mounted to MRS / MRS2

SCP80V units mounted to MRS / MRS2 for rear facing styli
---
* Where P specifies that it is the probe axis rather than the machine
** Tested on a CMM with specification of 0.48 μm +L/1000 with touch and scanning deflections ≤ 0.5 mm
# Longer stylus lengths may be carried subject to operating conditions - consult Renishaw for application assistance
SP80H probe specification
The probe orientation shown below is the orientation used in the SP80H probe product specification.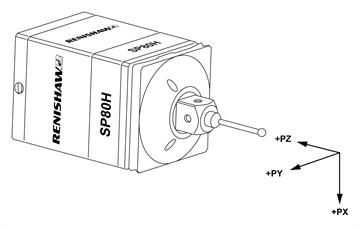 ---
Probe attributes

Ultra-high accuracy scanning probe with three axis measurement (±PX, ±PY, ±PZ)*

Orientation

Horizontal

Size

80 mm × 80 mm (3.15 in × 3.15 in) body, 150 mm (5.91 in) long including SH80 stylus holder

Quill mounting

KM80: 80 mm × 80 mm quill to kinematic SP80 quill mount (standard)

KM6080: 60 mm × 60 mm to 80 mm × 80 mm kinematic SP80 probe mount (option)

SM80 : Shank mount and other custom made adaptor plates available - contact your Renishaw supplier for details

Measurement range

3-axis measurement: ±1.25 mm (PX)* / ±2.5 mm (PY, PZ)*

Overtravel range

PY* and PX* protected by breakout of the kinematic joint to the SH80

PZ* has a mechanical bump stop

Resolution of digital scales

0.02 μm

Measurement capability test to ISO10360-2**

Typically <1.0 μm MPETHN with a 60 mm stylus

Scanning capability test to ISO10360-4**

Typically <1.5 μm MPETHN with a 60 mm stylus

Time for scan = 74 s

Return to zero

Approximately 1% of working deflection

Spring rate

Approximately 2.5 N/mm (PX)*

Approximately 1.6 N/mm (PY, PZ)*

Stylus carrying capability

Renishaw M5 stylus range

Maximum 300 g mass (unbalanced)***

Maximum 500 mm projection #

Mass

SP80H probe body only: 860 g

SH80 stylus holder: 185 g

KM80 quill mount: 110 g

Pull off force of SH80

<20 N when using SCP80V - otherwise approximately 80 N

Probe power supply

+9 V to +18 V @ 300 mA maximum dc

System power supply (including IU80)

+5 V ± 0.25 V @ 1 A maximum dc

SP80 probe outputs (X, Y, Z)

1.5 V ± 0.25 V p-p. analogue quadrature signal (nominal 2.5 V zero crossing reference)

Interfacing options

Using Renishaw PCI countercard (CC6) and interpolator unit (IU80)
Other interface card designed by OEM and used in conjunction with an IU80
Using a countercard and interpolator units designed by the OEM

Change rack system

SP80V mounted to on OEM supplied extension
---
* Where P specifies that it is the probe's axis rather than the machine's
** Tested on a CMM with specification of 0.48 μm + L/1000 with touch and scanning deflections ≤ 0.15 mm
*** Stylus centre of gravity to be within area A of graph
# Longer stylus lengths may be carried subject to operating conditions - consult Renishaw for application assistance
Flyers and brochures
Brochure: SP80

Increase the functionality of your CMM with the ultra-high accuracy SP80 scanning probe
Installation and user's guides
---
| | |
| --- | --- |
| | Part number |
| SP80 scanning probe kits | |
| SP80 kit 1 including 1 SH80, 1 × KM80, 1 × SH80K and 1 × SH80 removal tool | A-2238-0700 |
| SP80 kit 2 including 1 × SH80, 1 × KM80, 1 × SH80K, 1 × SH80 removal tool, 3 × SCP80 and 1 × 600 mm MRS kit | A-2238-0732 |
| SP80 kit 3 including 1 × SH80, 1 × KM80,1 × SH80K, 1 × SH80 removal tool, 4 × SCP80 and 1 × 600 mm MRS kit | A-2238-0733 |
| SP80 kit 4 including 1 × SH80, 1 × KM80, 1 × SH80K, 1 × SH80 removal tool, 5 × SCP80 and 1 × 1000 mm MRS kit | A-2238-0734 |
| SP80 kit 5 including 3 × SH80, 1 × KM80,1 × SH80K, 1 × SH80 removal tool, 3 × SCP80 and 1 × 600 mm MRS kit | A-2238-0735 |
| SP80 kit 6 including 4 × SH80, 1 × KM80, 1 × SH80K, 1 × SH80 removal tool, 4 × SCP80 and 1 × 600 mm MRS kit | A-2238-0736 |
| SP80 kit 7 including 5 × SH80, 1 × KM80, 1 × SH80K, 1 × SH80 removal tool, 5 × SCP80 and 1 × 1000 mm MRS kit | A-2238-0737 |
| SP80H scanning probe kits | |
| SP80H kit 1 including 1 SH80, 1 × KM80, 1 × SH80K and 1 × SH80 removal tool | A-2238-0419 |
| SP80 and SP80H stylus changing accessories | |
| SCP80 stylus change port for SP80 (for use with MRS / MRS2 system) | A-2238-0706 |
| SCP80V stylus change port for SP80 and SP80H | A-2238-0726 |
| SH80 stylus holder for SP80 and SP80H | A-2238-0705 |
| SH80K kinematic stylus holder for SP80 and SP80H | A-2238-0430 |
| SH80 removal tool for SP80 and SP80H | M-2238-0443 |
| SP80 and SP80H interfaces and counter cards | |
| IU80 interpolator unit for SP80 and SP80H | A-2238-0720 |
| CC6 counter card for SP80 and SP80H (includes PL158 cable) | A-4068-0400 |
| SP80 accessories | |
| SM80 shank mount plate for SP80 and SP80H | A-2238-0704 |
| KM80 standard kinematic mount for SP80 and SP80H | A-2238-0703 |
| KM6080 60 mm to 80 mm quill adaptor for SP80 and SP80H | A-2238-0020 |
| PHA80 - SP80 to KM1 quick change adaptor | A-2238-0752 |
---