SP80 and SP80H
Combining long stylus reach with ultra-high accuracy performance, SP80 is the first-choice scanning probe for many applications.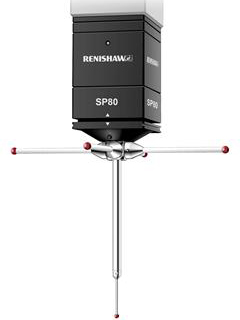 SP80 is a quill-mounted scanning probe that uses digital scale and readhead technology, plus Renishaw's innovative isolated optical metrology principles, to provide exceptional scanning performance, even with long styli.
SP80 is able to reach deep into parts by carrying styli up to 1000 mm long and 500 g mass, including star configurations which do not require counterbalancing. Renishaw's M5 styli products are designed to complement SP80 and ensure peak performance.
Key system benefits:
Ultra-high accuracy scanning by using digital readheads providing 0.02 μm resolution
Large stylus arrangement capability, up to 1000 mm length and 500 g mass, unbalanced
Rapid dynamic response as a result of the low suspended mass within the probe
Repeatable stylus changing for fast, flexible part inspection
Class-leading performance, with flexible use of styli
Detachable stylus holders permit rapid and repeatable interchange between stylus configurations, thus eliminating re-calibration, maximising productivity and permitting optimum solutions to match the application.
Fast stylus changing for maximum productivity
The flexibility of stylus changing is a key part of Renishaw's probe design. The SP80 utilises the modular rack system (MRS2) which is compatible with other scanning probe systems (REVO, SP25M and SP600), as well as the ACR3 autochange rack.
Multiple stylus change ports for the SP80 (SCP80) can be attached to the MRS2 rail at any chosen location, depending on the space requirements for the stylus arrangements needed for your application.
Extended warranty
For peace of mind a 3-year warranty is available for your new CMM products during the first 3 months from purchase. Contact your vendor.
Presentations
Presentation: SP80 and SP80H

The SP80 is an ultra-accurate quill-mounted scanning probe with long stylus carrying capacity. It is suited to the inspection of components with deep features, or where the ultimate in measurement accuracy is required.
Technical article
You may also be interested in...
You are currently looking at the SP80 scanning system. You may also be interested in learning about REVO for scanning and applications requiring a long stylus…