TCR20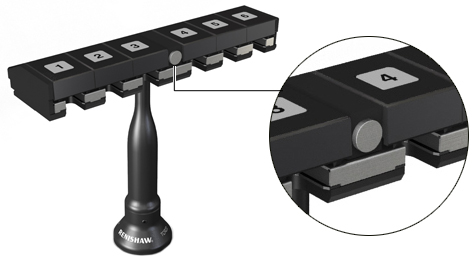 TCR20 is a compact probe module rack for use with PH20 that provides the capability for quick and repeatable tool changing and tip correction.
Based on the industry standard range of MCR20 rack systems, TCR20 securely stores modules for rapid automatic changing, protecting mating surfaces from any airborne contaminants within the working envelope of the machine.
TCR20 carries the full range of TP20 modules for use with a PH20 system and can accommodate a range of module and stylus combinations.
TCR20 features an integrated tip datum artefact in the centre of the rack assembly, reducing cycle time when measuring and performing the tip correct procedure.
Tip correction is key when the absolute highest level of accuracy is required for certain applications. It compensates for any residual variations after a tool change, maintaining a market leading level of accuracy from PH20.
TCR20 alignment and change routine
The following routines are handled through UCCserver for TCR20:
Alignment routine
Put down and pick up routine
Safe position
Mounting TCR20 onto the CMM
NOTE: To minimise the machine volume lost it is recommended that the TCR20 is mounted as close as possible to the extreme edge of the CMM's operating envelope.
1. Fix the rack base to the CMM bed using the appropriate fixing screw. Depending upon the size of screw required it may be necessary to also use a washer.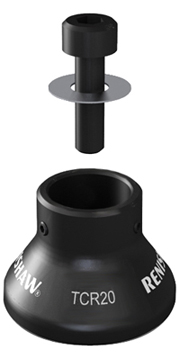 2. Fit the TCR20 leg into the base and orientate the rack. Secure the rack in the correct orientation by tightening the three grubscrews that are located in the rack base.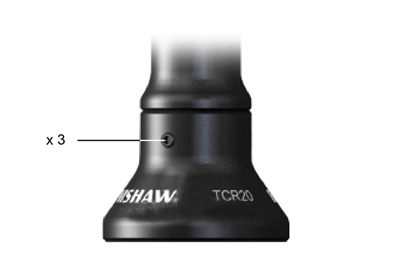 Technical data - TCR20
| | |
| --- | --- |
| Width | 200 mm (7.87 in) |
| Depth | 57 mm (2.24 in) |
| Base diameter | 50 mm (1.97 in) |
| Port entry velocity | Maximum 800 mm/s |
| Mounting orientation | Ports in horizontal position only |
| Tip correct artefact | Centre of rack assembly |
| Overtravel | None - overtravel in PH20 head |
| Inhibit range | None - provided by UCC controller |