Installation and connection details
Dimensions
| | | | |
| --- | --- | --- | --- |
| Width | Depth | Height | Weight |
| 440 mm (17.3 in) | 180 mm (7.1 in) | 44 mm (1.7 in) | 2.1 kg (4 lb 10 oz) |
UCC T3 -2 can either be free standing or used in a 19 inch rack system.
Stand-alone installation
The CMM controller unit draws air from the right hand side when viewed from the front and expels air out of the left hand side. A minimum clearance gap of 10 mm is necessary between the sides of the unit and any potential obstruction.
Mounting in a 19 inch rack
The rack mounting kit (Renishaw part number A-5518-0005) contains two brackets and four M5 × 6 mm screws. Assemble the brackets to the CMM controller as shown below: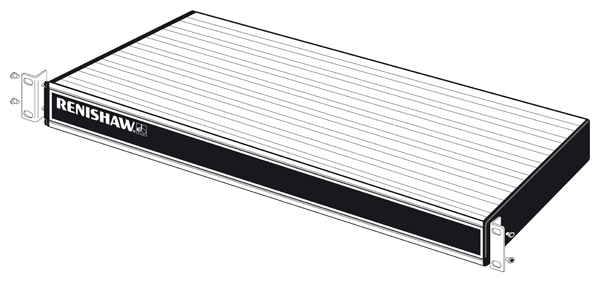 Stylus change rack (SCR) connector
The SCR200 stylus change rack is connected to the controller via a 6-pin miniature DIN socket. The pin numbers are illustrated and their functions are shown in the table.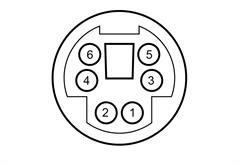 SCR200 connector (view on rear panel)
| Pin number | Description | Pin number | Description |
| --- | --- | --- | --- |
| 1 | Reset | 5 | 0 V |
| 2 | Fault | 6 | Reserved |
| 3 | Inhibit | Shell | Screen |
| 4 | +5 V | | |