Pairing the MCU W joystick with the cradle
The MCU W is a wireless joystick that communicates with the CMM through the hard-wired MCU W cradle. The communication between the joystick and the cradle is through a Bluetooth® wireless communication link and operates up to 25 meters line-of-sight between the MCU W joystick and the cradle. The MCU W is supplied pre-paired and this procedure is only required if part of the system is replaced.
This procedure is only required if part of the system has been replaced.
Prior to pairing the MCU W cradle to the joystick please ensure that:
The MCU W cradle power cable is unplugged
The MCU W joystick is switched off
 To pair the MCU W joystick to the cradle please do the following: 
1. Press the ON / OFF button on the MCU W.
2. While the LEDs are flashing, press and hold the PROG button until the LEDs stop flashing.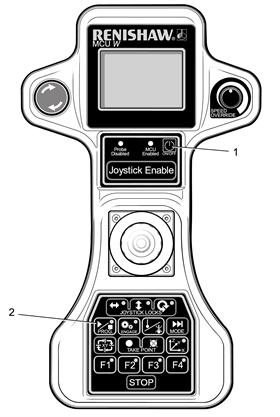 3. Plug in the MCU W cradle power cable and wait for the MCU W cradle LEDs to stop flashing.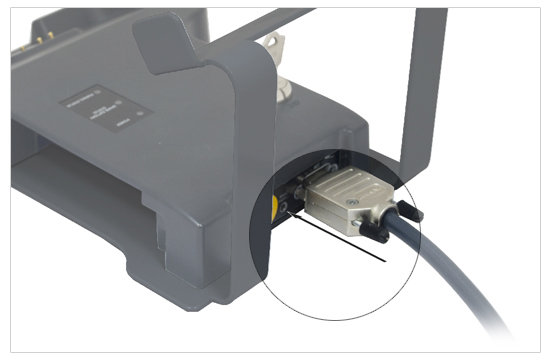 4. Press and hold the recessed switch at the back of the MCU W cradle until the blue pairing status LED starts to flash rapidly, this should be about five times a second.
The MCU W screen will show the pairing process has started which takes approximately 30 seconds. Both the cradle and joystick will search for 60 seconds before timing out.
The status of the pairing
Successful pairing is indicated by message timer symbol on the screen indicating that the joystick is ready for use and waiting for communication from the UCC controller. The pairing status LED on the MCU W cradle is solid blue. A red pairing status LED indicates that no pairing exists.