Probe product overview
Renishaw's CMM touch-trigger probes detailed in this user's guide are designed to suit any CMM, but their individual characteristics are outlined below:
| | |
| --- | --- |
| TP1(S) | A robust shank-mounted probe offering generous overtravel - ideally suited to manual CMMs. |
| TP2 - 5-way | A compact probe allowing component penetration - ideally suited to CNC / DCC machines. |
| TP6 | Complementing the TP2 series, but carrying longer and heavier styli, this probe is suited to general-purpose applications. |
| TP6A | This probe has all the functions of the TP6 probe and in addition the patented Renishaw autojoint that permits fast probe exchange without the need to requalify. |
Renishaw also manufacture other touch-trigger probes which are not detailed in the user's guide.
For details of these and other Renishaw products, visit the Renishaw website at www.renishaw.com.
Principles of operation
The principle component of Renishaw touch-trigger probes is the kinematic location as shown below - a mechanical device that has the ability to return the stylus ball to the same repeatable position following any deflection.
The kinematic location consists of a pivotal plate [1] that is spring-loaded against three bearing points [2] by a helical compression spring [3]. These bearing points are formed by a combination of rollers and ball bearings.
Bearing points act as electrical contacts such that when the pivotal plate is deflected, the electrical circuit changes its characteristics and causes the probe interface to send a trigger to the CMM controller.
Following this trigger event, the stylus ball must be removed from contact with the surface to enable the probe to return the stylus ball to its repeatable position.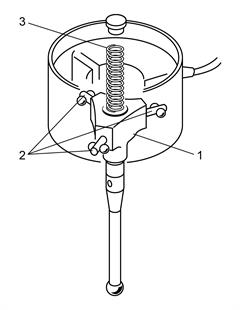 | | |
| --- | --- |
| 1 | Pivotal plate |
| 2 | Three bearing points |
| 3 | Helical compression spring |