SFP2
Enhanced access and inspection capability for integrated surface finish measurement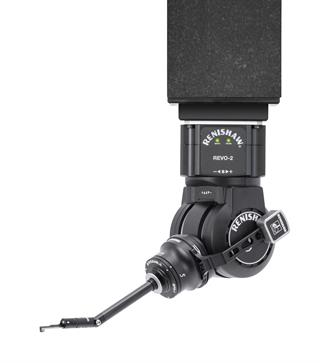 The SFP2 probe increases the surface finish measurement ability of the REVO® system, which offers multi-sensor capability providing touch-trigger, high speed tactile scanning and non-contact vision measurement on a single CMM.
Powered by 5-axis measurement technology, the SFP2's automated surface finish inspection offers significant time savings, reduced part handling and greater return on CMM investment.
The SFP2 system consists of a probe and a range of modules and is automatically interchangeable with all other probe options available for REVO, providing the flexibility to easily select the optimum tool to inspect a wide range of features, all on one CMM platform. Data from multiple sensors is automatically referenced to a common datum.
The surface finish system is managed by the same I++ DME compliant interface as the REVO system, and full user functionality is provided by Renishaw's MODUS™ metrology software.
System benefits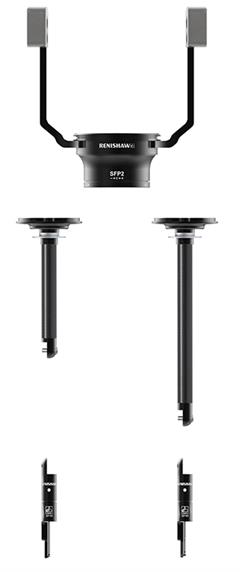 Unrivalled feature access
SFP2 benefits from REVO's infinite positioning and 5-axis movement, and features an integral motorised C-axis. The SFM variants offer a range of tip arrangements which, combined with the knuckle joint between module and holder, provide access to the features most difficult to reach.
Operator independent data collection
CMM programs can now include automated and operator-independent surface finish measurement. All results, including surface finish data, are recorded and stored in a single location for easy retrieval.
Greater return on investment in CMMs

Integrated surface finish and dimensional inspection can remove the need for dedicated surface measurement equipment, reducing factory footprint, part handling and associated costs.
SFP2 probe change system
The REVO-2 probe change system is designed to allow automatic REVO-2 probe and accessory changing on a CMM. For optimum metrology, SFP2 probes and holder / module configurations should be changed automatically using REVO-2 change ports (RCP TC-3 and RCP2). These ports are mounted on the modular rack system (MRS or MRS2).

Specifications
SFP2 probe

C-axis positioning accuracy
± 0.25°
C-axis rotation speed
Up to 90°/sec
Rotational capability
A-axis (from REVO-2): +120° / -110°

B-axis (from REVO-2): Infinite positioning

C-axis: ± 180˚

Mounting (probe and holder)
Magnetised coupling
SFM-A1 and SFM-A2 modules

Surface finish range
0.05 - 6.3 μm Ra
Surface finish accuracy (of nominal Ra)
± (5% +15 nm)
Surface forces
Skid: 0.2 N

Stylus tip: 0.003 N

Encoder resolution
1 nm
Measurement range
1.0 mm
Measurement speed
Up to 1 mm/s
SFM range of adjustment
± 90° at the knuckle joint
System features

Probe head
REVO-2 only
Change rack
MRS2 recommended for full capability
Software compatibility
UCCsuite 5.2 onwards

MODUS 1.8 onwards

Weight
SFP2 probe: 330 g

SFH1 holder: 33 g

SFM-A1 module: 12 g

SFM-A2 module: 12 g

Operating temperature range
+10 ˚C to +40 ˚C
Storage temperature range
-25 ˚C to +70 ˚C
Operating humidity
0% to 80% (non-condensing)
Calibration and verification artifacts
SFA1: 3.0 μm Ra sinusoid

SFA2: 0.5 μm Ra sinusoid

SFA3: 0.4 μm Ra sawtooth

TFP: Uses LF TP20 module; PICS interface to SPA3 amplifier

Outputs
MODUS basic: Ra, Rms(Rq)

MODUS standard surface texture: Rt, R3z, Rz, Rz1max, RzDIN, RzJIS, Rseg Rp, Rv Rpm, Rvm, Rc, Rsm

MODUS advanced surface texture: Rk, Rpk, Rvk, Rmr, Rmr1, Rmr2, Rpq, Rvq, Rmq, Rvoid, Rvdd, Rvddl, Rcvx, Rcvxl

Sampling rate
4 kHz
NOTE: Dimensions are shown in mm.

* NOTE: Dimensions to kinematic mounting plane.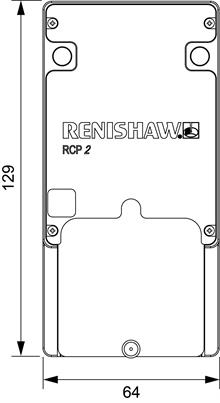 Installation and user's guides
| | Part number |
| --- | --- |
| REVO-2 5-axis scanning system kits | |
| REVO-2 entry kit (includes 1 × REVO-2 head kit, 1 × RSP2 V2 probe, 1 × RSH250 kit, 1 × datum ball kit) | A-5518-1095 |
| REVO-2 S5 controller kit (including 1 × UCC S5, 1 × SPA3 amp, 1 × REVO air filer assembly, 1 × REVO 6 mm air pipe, 1 × UCC T3 connector kit, 1 × MCU5-2 joystick, 1 × PSU) | A-5518-0096 |
| REVO-2 S5 controller kit (including 1 × UCC S5, 1 × SPA3 amp, 1 × REVO air filer assembly, 1 × REVO 6 mm air pipe, 1 × UCC T3 connector kit, 1 × MCU W-2 joystick, MCU W battery pack (2 batteries), 1 × PSU) | A-5518-0098 |
| REVO RSP2 probe | |
| RSP2 V2 probe (probe only) | A-3060-0028 |
| RSP2 stylus holder kits | |
| RSH175 stylus holder kit (including 1 × RSH175, 2 × Ø6 by 10 M2 styli, 1 × stylus tools) | A-3060-0024 |
| RSH250 stylus holder kit (including 1 × RSH250, 2 × Ø6 by 10 M2 styli, 1 × stylus tools) | A-3060-0021 |
| RSH350 stylus holder kit (including 1 × RSH350, 2 × Ø6 by 10 M2 styli, 1 × stylus tools) | A-3060-0022 |
| RSH450 stylus holder kit (including 1 × RSH450, 2 × Ø6 by 10 M2 styli, 1 × stylus tools) | A-3060-0026 |
| RSH500 stylus holder kit (including 1 × RSH500, 2 × Ø6 by 10 M2 styli, 1 × stylus tools) | A-3060-0023 |
| REVO RSP3 probe kits | |
| REVO RSP3-1 probe kit (including 1 × RSP3-1 probe, 1 × RSH3-1 stylus holder, 1 × 20 mm extension and styli) | A-3060-0331 |
| REVO RSP3-2 probe kit (including 1 × RSP3-2 probe, 1 × RSH3-2 stylus holder, 1 × 20 mm extension and styli) | A-3060-0332 |
| REVO RSP3-3 probe kit (including 1 × RSP3-3 probe, 1 × RSH3-3 stylus holder, 1 × 20 mm extension and styli) | A-3060-0333 |
| REVO RSP3-4 probe kit (including 1 × RSP3-4 probe, 1 × RSH3-4 stylus holder, 1 × 20 mm extension and styli) | A-3060-0334 |
| RSP3 stylus holder kits | |
| RSH3-1 stylus holder kit (includes 1 × stylus holder, 1 × PA25-RSH3 port adapter, 1 × stylus tools) | A-3061-2521 |
| RSH3-2 stylus holder kit (includes 1 × stylus holder, 1 × PA25-RSH3 port adapter, 1 × stylus tools) | A-3061-2522 |
| RSH3-3 stylus holder kit (includes 1 × stylus holder, 1 × PA25-RSH3 port adapter, 1 × stylus tools) | A-3061-2523 |
| RSH3-4 stylus holder kit (includes 1 × stylus holder, 1 × PA25-RSH3 port adapter, 1 × stylus tools) | A-3061-2524 |
| RSP3-6 probe | |
| RSP3-6 probe (probe only) | A-6084-0001 |
| RSP3-6 stylus holder kits | |
| RSH3-6c-500 kit for cranked styli (includes 1 × stylus holder, 2 × Ø6 by 10 M2 styli, 1 × stylus tools) | A-6084-0015 |
| RSH3-6c-600 kit for cranked styli (includes 1 × stylus holder, 2 × Ø6 by 10 M2 styli, 1 × stylus tools) | A-6084-0016 |
| RSH3-6-600 kit (includes 1 × stylus holder, 2 × Ø6 by 10 M2 styli, 1 × stylus tools) | A-6084-0006 |
| RSH3-6-700 kit (includes 1 × stylus holder, 2 × Ø6 by 10 M2 styli, 1 × stylus tools) | A-6084-0007 |
| RSH3-6-800 kit (includes 1 × stylus holder, 2 × Ø6 by 10 M2 styli, 1 × stylus tools) | A-6084-0008 |
| REVO SFP2 kits | |
| SFP2 combi kit #1 (A1 and A2 modules, single artefact) | A-5764-0001 |
| SFP2 combi kit #2 (single artefact, no modules) | A-5764-0002 |
| SFP2 combi kit #3 (A1 and A2 modules, triple artefact) | A-5764-0003 |
| SFP2 combi kit #4 (triple artefact, no modules) | A-5764-0004 |
| Single artefact kit (SFA1 and single artefact holding kit) | A-5764-0072 |
| Triple artefact kit (SFA1, 2, 3 and triple artefact holding kit) | A-5764-0073 |
| Probe and modules | |
| SFP2 surface finish probe with integral rotary C-axis | |
| SFM-A1 2 µm general purpose straight module (type A skid) | A-5764-0020 |
| SFM-A1 5 µm general purpose straight module (type A skid) | A-5764-0022 |
| SFM-A2 2 µm general purpose cranked module (type A skid) | A-5764-0021 |
| SFM-A2 5 µm general purpose cranked module (type A skid) | A-5764-0023 |
| SFM-B1 2 µm straight module with smaller skid for short lands (type B skid) | A-5764-0025 |
| SFM-B1 5 µm straight module with smaller skid for short lands (type B skid) | A-5764-0050 |
| SFM-B2 2 µm cranked module with smaller skid for short lands (type B skid) | A-5764-0026 |
| SFM-B2 5 µm cranked module with smaller skid for short lands (type B skid) | A-5764-0024 |
| SFM-B3 5 µm 90° module with smaller skid for pockets and grooves (type B skid) | A-5764-0027 |
| SFM-B4 5 µm cranked module with smaller skid for reach into confined areas (type B skid) | A-5764-0034 |
| SFM-B5 5 µm cranked module with smaller skid for reach into undercuts and grooves (type B skid) | A-5764-0029 |
| SFM-C2 2 µm straight module for small bores (type C skid) | A-5764-0031 |
| SFM-C2 5 µm straight module for small bores (type C skid) | A-5764-0032 |
| SFM-D1 2 µm 90° module for extra reach (type D skid) | A-5764-0035 |
| SFM-D1 5 µm 90° module for extra reach (type D skid) | A-5764-0036 |
| SFM-E1 2 µm long straight module with 2-part skid (type E skid) | A-5764-0040 |
| SFM-E1 5 µm long straight module with 2-part skid (type E skid) | A-5764-0038 |
| SFM-E2 5 µm long straight module with 2-part skid (type E skid) | A-5764-0041 |
| Accessories | |
| SFH-1 surface finish module holder | A-5764-0080 |
| SFH-2 surface finish module holder | A-5764-0081 |
| SFA1 3.0 SIN artefact (SFA1 plate with UKAS certificate) | A-5764-0060 |
| SFA2 0.5 SIN artefact (SFA2 plate with UKAS certificate) | A-5764-0061 |
| SFA3 0.4 ST artefact (SFA3 plate with UKAS certificate) | A-5764-0062 |
| OFA optical flat artefact (* Special product) | A-5764-3142 |
| Single artefact holder mounting kit. Contains: SFAH-1 single plate holder, rack adaptor, leg adaptor, fixings for all options, tools | A-5764-0070 |
| Triple artefact holder mounting kit. Contains: SFAH-2 triple plate holder, rack adaptor, leg adaptor, fixings for all options, tools | A-5764-0071 |
| TFP tip find probe kit (incl TP20 LF mod, stylus, PL24 cable) | A-5764-0063 |
| MST module setting tool | A-5764-0091 |
| System storage box | A-5764-0090 |
| Software | |
| MODUS surface texture - standard | M-5639-0228 |
| MODUS surface texture - advanced | M-5639-0227 |
| REVO-2 RVP kits | |
| RVP REVO-2 vision probe kit | A-5378-0080 |
| VM10 vision module kit | A-5378-0082 |
| VM11 vision module kit | A-5378-0087 |
| VPCP vision probe change port kit | A-5378-0081 |
| VMCP vision module change port kit | A-5378-0083 |
| VA10 vision artefact kit | A-5378-0085 |
| REVO rack kits | |
| REVO MRS2 rack kit #1 (includes 1 × MRS2 400 mm leg kit, 1 × MRS2 400 mm rail kit, 2 × RCP2, 1 × TDA) - 400 mm of rail space | A-3060-2631 |
| REVO MRS2 rack kit #2 (includes 1 × MRS2 400 mm leg kit, 1 × MRS2 600 mm rail kit, 2 × RCP TC-2, 2 × RCP2, 1 × RCP TC PSU unit, 1 × TDA) - 600 mm of rail space | A-3060-2632 |
| REVO MRS2 rack kit #3 (includes 1 × MRS2 600 mm leg kit, 1 × MRS2 600 mm rail kit, 1 × MRS2 front spaced 600 mm rail kit, 2 × RCP TC-2, 2 × RCP2, 1 × RCP TC PSU unit, 1 × TDA) - 1200 mm of rail space | A-3060-2633 |
| REVO MRS2 rack kit #4 (includes 1 × MRS2 800 mm leg kit, 1 × MRS2 600 mm rail kit, 1 × MRS2 front spaced 600 mm rail kit, 1 × MRS2 back spaced 600 mm rail kit, 2 × RCP TC-2, 2 × RCP2, 1 × RCP TC PSU unit, 1 × TDA) - 1800 mm of rail space | A-3060-2634 |
| REVO MRS2 rack kit #5 (includes 1 × MRS2 600 mm leg kit, 1 × MRS2 1000 mm rail kit, 1 × MRS2 front spaced 1000 mm rail kit, 2 × RCP TC-2, 2 × RCP2, 1 × RCP TC PSU unit, 1 × TDA) - 2000 mm of rail space | A-3060-2635 |
| REVO MRS2 rack kit #6 (includes 1 × MRS2 800 mm leg kit, 1 × MRS2 1000 mm rail kit, 1 × MRS2 front spaced 1000 mm rail kit, 1 × MRS2 back spaced 1000 mm rail kit, 2 × RCP TC-2, 2 × RCP2, 1 × RCP TC PSU unit, 1 × TDA) - 3000 mm of rail space | A-3060-2636 |
| REVO rack ports and rack accessories | |
| REVO RCP2 change port for RSP2, SFP1 and RSP3-6 stylus holders | A-3060-0090 |
| REVO RCP TC-2 thermally controlled change port for REVO probes | A-3061-0310 |
| REVO RCP TC PSU unit | A-3061-0302 |
| RCP TC-3 high force storage port | A-3061-0320 |
| REVO FCR25 flexible change rack kit for changing RSH3 stylus holders: three port unit for MRS system (includes 1 × FCR25, 3 × PA25-RSH3, 1 × REVO FCR25 adaptor kit) | A-3061-0105 |
| TDA (tip datum artefact) | A-3060-0085 |
| DC link cable | A-3060-0015 |
| 1.5 m dc extension cable | A-3060-0016 |
| 5 m dc extension cable | A-3060-0017 |
| 10 m dc extension cable | A-3060-0018 |
| REVO FCR25 adaptor | A-3061-0101 |
| REVO accessories | |
| REVO datum ball kit (including 45 mm datum ball in wooden box with M6, M8, M10, 5/16, 3/8 mounting studs and spanner set) | A-3060-0310 |
| REVO mechanical fuse mount (crash protection) | A-3060-0300 |
| REVO RCP door replacement kit | A-3061-1962 |
| PA25-RSH3 kit (includes 3 × PA25-RSH3 port inserts) | A-3061-2530 |
| REVO air pipe 6 mm O/D × 20 m | A-3060-0082 |
| REVO air filter set | A-3060-0070 |
| 15 m cable for use with PH20 and REVO | A-5669-0015 |
| 25 m cable for use with PH20 and REVO | A-5759-0025 |
| 30 m cable for use with REVO | A-5669-0030 |
| REVO Y cable adaptor kit | A-3060-0045 |