It's in the touch - identifying trace material within a fingerprint
26 March 2020
At a time when watching what we touch is at the forefront of people's thoughts, the ability to analyse object surfaces for trace materials is particularly relevant. It's something we do routinely, and without thought - at times subconsciously. Yet can have a profound impact.
One example of this, is trace materials within a fingerprint. It demonstrates perfectly the power of modern chemical analysis - of course, the fingerprint itself provides detailed bio-chemical information, collected in seconds using the inVia™ confocal Raman microscope. But perhaps of more interest, particularly within the forensic communities, is what chemicals may be hidden in the print.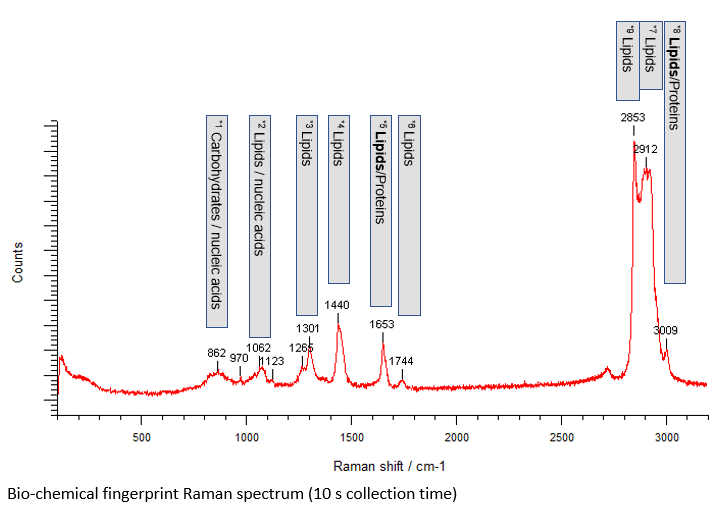 Modern advanced chemical imaging systems create high resolution images of chemical components. But to be truly useful, in a highly practical and physical environment, chemical imaging needs to be versatile and forgiving over a range of object surfaces. It seemed perfectly sensible then, to take an everyday object, one used throughout the world, to show what the inVia confocal Raman microscope can really do. So, I chose a drinks can, complex in shape and colour, to find out what was in 'the touch'.
The inVia Raman microscope comes equipped with a huge range of options and technologies and is the ideal system to look at complex objects, just like my can. I can view foreign materials within the fingerprint with polarised or darkfield methods which allows for highly targeted analysis. But there's more to this print than meets the eye. I need to scan the print with high sensitivity and specificity for chemical components.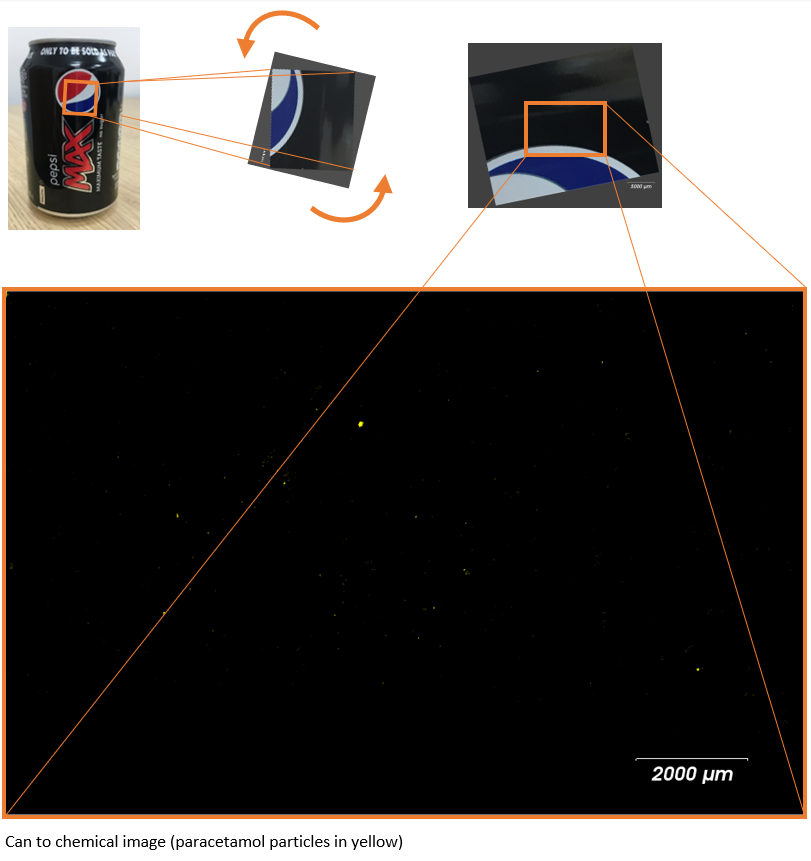 To do this, I used fast StreamLine™ chemical imaging, tracking the complex surface shape using LiveTrack™ as it goes. The result is chemical identification of the material, with an image showing exactly where it is on the can and in the print. LiveTrack is unique to Renishaw Raman systems and, for me and many users, is indispensable when analysing all sorts of materials – particularly samples which are curved or have rough or uneven surfaces.
The analysis reveals the finger has been in contact with paracetamol (acetaminophen) tablet prior to handling the can (I had indeed taken a headache pill and helped it down with a swig of soda.). In this case, particles around 15 µm in size are revealed, with identification requiring no knowledge of what might be present.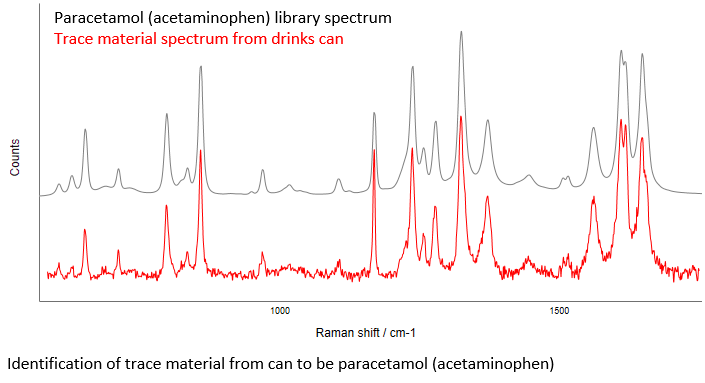 If you want to find out more about how inVia chemical imaging can be applied to your materials and problems without headaches. Don't be afraid to get in 'touch'.
About the author
Tim Smith, Applications Manager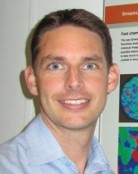 Tim has over 20 year's experience using a range of Raman research instruments. He has extensive knowledge and real-world use of systems in most application areas, however his particular expertise is within Raman imaging and pharmaceutical applications.
Tim spearheaded the application of StreamLine imaging in 2007 to large scale high resolution chemical imaging. His more recent emphasis has been on live focus tracking of materials and correlative chemical and morphological imaging.