Modular and custom fixturing
Renishaw offers a range of modular and custom fixturing and software for use with Co-ordinate Measuring Machines (CMMs), Equator™ gauges and vision systems.
Our modular and custom fixturing can improve the throughput, reproducibility and accuracy of your inspection process with quick and repeatable fixturing set-ups.
Whether you are inspecting parts for aerospace, automotive, electronics, industrial or medical applications, Renishaw fixtures can provide a complete solution to your fixturing requirements.
Why choose Renishaw metrology fixtures?
We recognise the complexities involved with fixturing for inspection, so we have developed a product line that provides a reliable and repeatable foundation for measurement.
We have considered the different types and modes of inspection, whether it be CMM, vision system, articulating arm, 3D scanner, optical comparator, or other device, our range can be used to improve efficiency and throughput of the inspection process.
Our easy to use modular and custom fixturing is key to reducing time wasted during one-off and repeat part inspection, and this can be further enhanced by using our software, FixtureBuilder, to build a fixture which can be used within native CAD software and to auto-generate a set of work instructions.
A large range of flexible solutions
Renishaw's broad range of modular fixturing components and custom design capabilities provides solutions for a variety of applications and parts of almost any size, shape or material. Base plates and components are available as standard in M4, M6, M8 metric and 1/4-20 imperial thread sizes.
Fast, accurate and repeatable
All components are hand-tightened and require no special tools. Set-ups can be documented and repeated with accuracy using our alpha-numerically labelled base plates.
Unrivalled durability, wear resistance and quality
Our heat treated steel components and hardcoat anodised base plates provide a smooth and scratch resistant finish.
Enhanced productivity during part inspection
Renishaw's FixtureBuilder software helps users create fixturing set-ups, provides documentation and assists with off-line programming.
Additional fixturing solutions
QuickLoad™ rail
For CMM users that need a fast, easy and repeatable method of loading multiple plates onto the CMM at the same time, Renishaw supplies the QuickLoad™ rail system.
The specially designed QuickLoad base plates locate to the QuickLoad rail, on either side, using quick release magnets and location pins. This design ensures the plates are located and secured for maximum throughput and unrivalled repeatability.
Learn more about QuickLoad rail.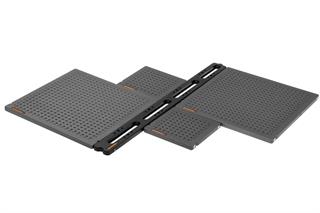 QuickLoad rail and plates
Metrology fixture tables
Improve your inspection process with Renishaw's metrology tables. Compatible with any portable CMM, white light or laser system, our metrology tables give you the freedom to move about your workshop or metrology inspection area with ease. The modular construction provides flexibility to mount portable CMMs.
Learn more about metrology fixture tables.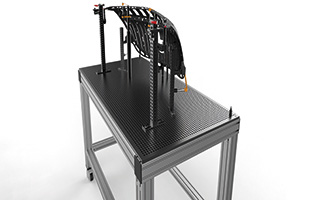 Metrology fixture table
FixtureBuilder 3D CAD software
Our software can be used to design and document any modular fixture using Renishaw components – including multi-plate fixtures using QuickLoad rail. Once the fixture is designed, the software can output build instructions, allowing operators to swiftly and accurately reproduce a fixture design. The software also allows users to export a model of the fixtured component, for use in measurement programming software.
Learn more about FixtureBuilder.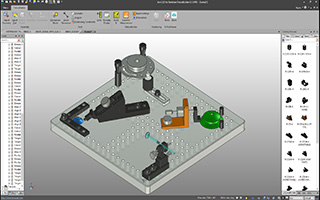 FixtureBuilder 8.0