Smart manufacturing technologies for process control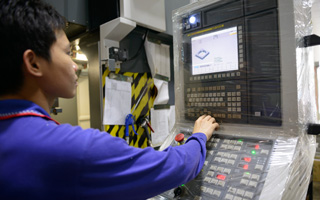 For a small company like ours, the cost of machine tool probes is certainly not insignificant, and many of our operators worried about damaging them through human error. The intuitive, easy-to-use nature of the GUI, coupled with its protection setting has made this a thing of the past.
GM Enterprise (Taiwan)
Probing and measurement systems for automated machining
Renishaw provides solutions for tool setting, broken tool detection, component set-up, in-cycle gauging and first-off component inspection, with automatic offset updates. Probing is an established best practice for maximising the efficiency, quality, capability and accuracy of machine tools. Standard routines built into modern CNC controls simplify the integration of probing cycles into machining operations and offline tools. These routines, combined with a CAD interface, make the simulation of measurement functions easy.
Machine diagnostics and preventative maintenance
Machine performance measurement and diagnosis is essential to establish a known and repeatable level of process capability. Renishaw's laser interferometer and ballbar measurement systems assess, monitor and improve the static and dynamic performance of machine tools, co-ordinate measuring machines (CMMs) and other position-critical motion systems.
3D scanning on machine tools
Next-generation high-speed, high-accuracy probing systems for fast part set-up and machining process control. With the unique 3D sensor technology within the OSP60 probe, probing systems with SPRINT™ technology provide exceptional, high-speed, high-accuracy, probing to CNC machine tools.
Shopfloor gauging for process control close to the point of manufacture
Process control can be achieved with closed-loop feedback using Equator™ gauging data to update offsets directly on machine tool controls. Data from the Equator gauge can be used to update offsets repeatably and reliably, compensating for common causes of process instability, for example tool wear and thermal drift.